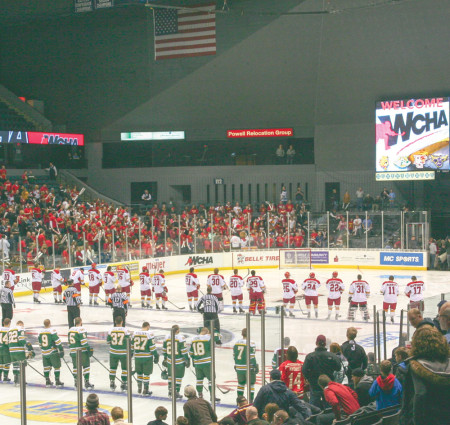 I lived a childhood dream out this past weekend inside Van Andel Arena.
A close friend of mine, Michael Corn, who produces the web show Bulldogs Unleashed, set me up with one of his old co-workers, Phil Cronin, who let me press the button that sounds the goal horn at Van Andel. I've always wanted to do that.
Shenanigans aside, on March 22, I got to the rink in time to see the WCHA Semi-Final between Minnesota State and Bowling Green State.
The game started at 2:07 p.m. on a Friday, which was odd. The true elephant in the rink was a ridiculous lack of attendance for the first game of the day.
Very few people in Grand Rapids follow college hockey religiously, and fewer still were there for Minnesota State or Bowling Green fans.
By my ballpark, there were clearly fewer than 300 people in the rink for the game.
When I walked down to sit behind the Bowling Green student section, nobody even looked twice at me sitting in a fourth row seat behind the bench.
The rink was so quiet, I heard a mom shush her child. True story.
Ferris fans may have saved the weekend for the WCHA.
The three Dawg Pound student section leaders – seniors Matt Leindecker and Thomas Szidik and junior Joel Root – swept the "Fan of the Game" contests, with Leindecker winning BGSU vs. MSU, Szidik winning Ferris vs. UAA, and Root winning the WCHA title game.
4,494 fans were tallied up in the rink for the first Ferris game of the weekend, with roughly 3,700 entering for the WCHA title game. A vast majority were Ferris fans.
"There was a ton of support from Ferris and it made it feel like a home atmosphere," senior forward Garrett Thompson said. "Hopefully [Cincinnati] has a strong fan base as well."
If Ferris doesn't make it the next time it's in Grand Rapids, can the WCHA continue to host here with the lack of interest for other teams?