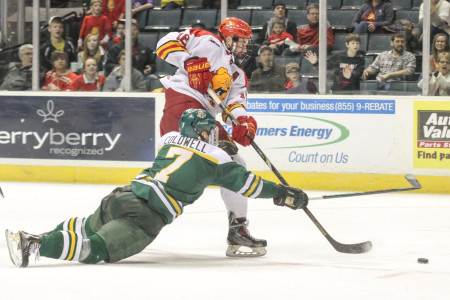 Senior assistant captain Garrett Thompson is now a former Ferris hockey player.
The Traverse City native has officially signed a one-year entry level contract to play for the Ottawa Senators organization of the National Hockey League.
"I've learned a lot, and I think I've developed as a player and a person," Thompson said. "I've learned a lot about myself and how to carry myself, and entering the real world as they say, I can take all of the stuff I've learned here and move on.
In four years, Thompson scored 42 goals and finished with 45 assists in 139 games. He scored a career high 16 goals in the 2013-14 season.
Thompson was also part of the winningest senior class in Ferris State hockey history, and he holds the distinction of being the only Ferris player to score in the Division I National Championship game.
"It'll be a little bit of a change obviously," Thompson said. "When you're with a program for four years, you don't expect much change at all. Over the years I've had a few [NHL Development] camps that I've went to, but not until towards the end of this season do you start to realize that you're going to be playing professional hockey and the college days are over."
The Ottawa Senators released a news brief, stating that Thompson will be joining the Binghamton Senators, Ottawa's farm team that plays in Binghamton, New York in the American Hockey League, to start his professional career.
The news of Thompson's signing comes just two days after former Ferris hockey players Chad Billins [NHL Calgary Flames] and Zach Redmond [NHL Winnipeg Jets] were called up from the American Hockey League to play with their respective NHL teams.
Ferris State now has three alumni in the NHL and four in the AHL.