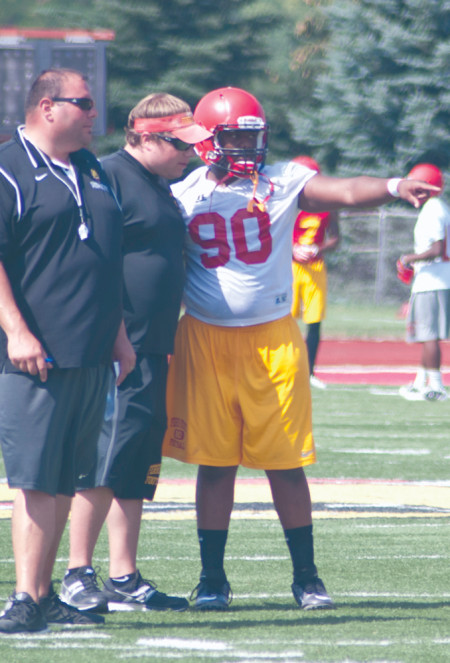 Winter is over and the Ferris football team is thawing out as they look toward a championship as spring training is underway.
Ferris State fell just short of a post-season berth last season, finishing third in the GLIAC with an 8-3 overall record. With all winter to dwell on their postseason shortcoming, the Bulldogs are finally back in action and ready right the wrongs.
"I think the offseason is always a big help for improving in preparation for the season," Academic All-American defensive end Justin Zimmer said. "It feels good to get back in there and into the swing of things."
The Bulldogs will conduct 15 practices spanning until their April 18 Crimson and Gold Spring Game (date subject to change), with their first practice having started on March 21. The month-long practice regimen includes all able-bodied roster players to participate in full pads.
All facets of the team, including offense, defense and special teams, have practiced together for the first time this year. Bumps and bruises are common as the players get their pads for the first time this season, but smart hitting has led to no serious injuries in practice.
"It's spring ball so guys are out there competing, but they know that essentially we're going against our own team, so injuries are pretty minimal," junior receiver Jake Lampman said. "We've had some new play calls that have been installed, so it's been an interesting first few days, but overall I think we're clicking and starting to look like a championship offense."
Lampman will help shore up a returning veteran offensive squad that lost ten players after last season. Lampman and his fellow receivers will once again catch balls from standout signal-caller and All-American quarterback Jason Vander Laan, as the "veer" attack is getting back into motion.
Ferris received its first look at next season's opponents after the 2014 schedule was released on Feb. 19. This will be the first season under third-year head coach Tony Annese the team will not face a Division I opponent. Instead, Ferris will face DII McKendree (Ill.) on Sept. 4 as their first game.
The Bulldogs will also host Grand Valley State as their home opener this upcoming season on Sept. 20, the second consecutive Anchor-Bone Classic that will be held at Top-Taggart Field.
"I am thinking that we just need to take it one game at a time," junior corner A.J. McEwen said. "The Grand Valley game is the home opener though, so it will be a crazy atmosphere and it should be a lot of fun."
Following spring training, the Bulldogs will once again line up against one another during the 2014 Crimson and Gold Spring Game. Kickoff is slated for April 18 at noon at Top-Taggart Field in Big Rapids.