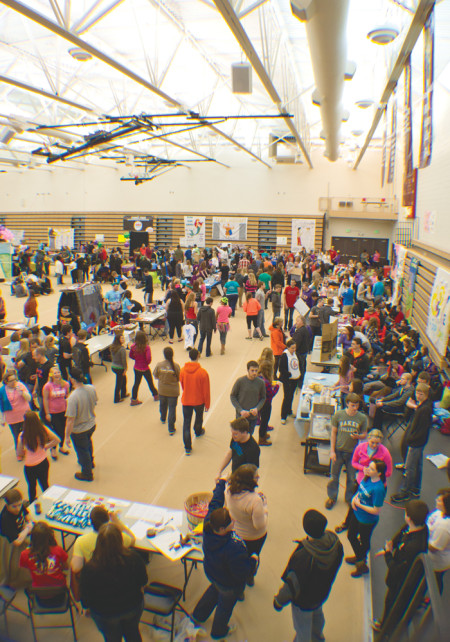 The 12-hour buzz of fundraising activity that is Relay For Life returned to Ferris' campus on April 4 and 5. This year's event raised $34,765.81, a Ferris Relay record.
The schedule for Relay For Life, an American Cancer Society fundraiser hosted annualy at Ferris by Colleges Against Cancer, was initially disrupted by a youth hockey tournament. This, however, didn't stop Colleges Against Cancer co-president John Letherer and his E-board from getting the event back on track.
"We had to relocate our survivor dinner location and reorganize a large section of the event," Letherer said. "However, my e-board proved themselves by making the adjustments without missing a beat."
Despite the early hiccup, the event continued as planned. Tables lined Wink Arena, selling everything from cupcakes to stints in fake jail. The evening was filled with events every hour to keep worn-out walkers upright, such as a highly competitive dodgeball tournament and a somewhat half-hearted, slap-happy round of scenes from a hat at 4 a.m.
For those who were returning, many of the faces and activities at Relay were familiar. This included "party boy" David Robinson, a pharmacy junior who has used the "party boy" gimmick to raise hundreds of dollars for his team, Kappa Psi, the past two years.
"We made a sign and I started doing it, and it took off more than I expected it to. Last year I think I raised 150 dollars. This year I think I raised a little over 200," Robinson said. "One of my favorite parts is when the survivors come out and take their laps. It really gives a personal face to the cause you're fighting for and shows you why Relay is so great."
Rocky start and all, this year's Relay proved to be the most successful yet.
"This has been the biggest Relay Ferris has ever seen, raising over $35,000 (a full $5000 over our goal)," Letherer said. "The teams were really able to pull together this year, as last year we barely made $25,000. Not only were the teams fantastic, but the rest of the Colleges Against Cancer general assembly did a great job of planning and putting on the event."
Letherer also gave a great amount of credit to the live music. The winner and runner up of the Battle of the Bands, The Balsam Brothers and Bridge the Gap, respectively, together provided a few hours of performance in the middle of the event.
Aubrey Forsythe, music industry management freshman and Relay team leader, was thrilled by how Relay came off – her very first college Relay. This was partially due to not having to spend the entire event outdoors, but also the results.
"I'm so proud of my team. We ended up in second place overall, which is amazing," Forsythe said. "Our fundraising efforts before relay really carried us through and I think next year we are hoping to execute on-site fundraising better."
The top-earning individuals were first-year pharmacy student Kirsten Thorhauer, music industry management junior Travis Hodder and forensic biology student Alex Costa. The highest earning organizations were Crafters Anonymous, Music Industry Management and Social Work.