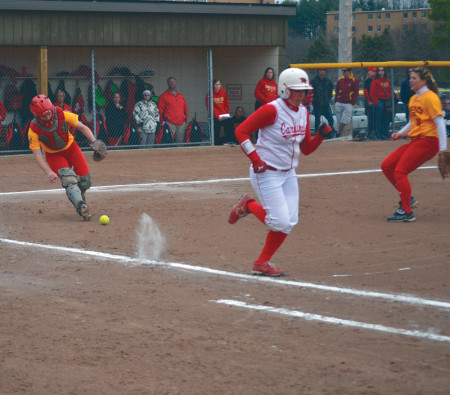 With their weather-hampered season winding down, Ferris State will need to finish April out strong as the conference tournament hangs in the balance.
Mother Nature has tried her hardest to stop softball this season, as the Bulldogs (13-13) have had to cancel 21 games this year due to inclement weather. With the sun finally shining through, Ferris is making an effort to salvage their season as only conference foes remain on the schedule.
"We need to win," freshman catcher Casey Bias said. "To move up in the standings and be able to get into the GLIACs, we need to win our games. I think that we know what we need to do and we know what these games mean."
Bias has given her power to Ferris' lineup this year, recording four doubles and a team-leading three homers in her first season as a Bulldog. She is currently batting .306 with 15 RBIs in 62 at bats this year.
Currently, Ferris is lingering around the cutoff line for a GLIAC playoff tournament berth. The Bulldogs are now 8-7 in conference play this season and need to finish in the top eight in the GLIAC to clinch a spot in the tournament.
At publishing time, Ferris sat in eighth place in the conference.
While weather conditions were the biggest issue, they have a new external foe on their own field. Ferris is currently playing with a portable fence erected in the outfield, cutting the outfield nearly in half. This has hindered outfield play, as many hits that would be routine pop-fly outs are now turning into home runs.
"Having the temporary fence is not ideal, but it's the same for both teams," sophomore utility player Taylor Verbic said. "We still need to stay focused because we are at a critical point in our season, where we will be playing eleven games in seven days These games will determine our invitation to the GLIAC tournament. Our team is ready to take on this challenge."
Ferris has seven games remaining in the regular season, matching up first against Saginaw Valley, and then Findlay, Hillsdale and Grand Valley. The Bulldogs will finish out the season against the Lakers with a home double-header on April 27, a game that was rescheduled after being cancelled on April 5.
"We just need to play the game as we all know how, do our personal best, and have some fun and it'll all come together," freshman closing pitcher Stacy Thompson said, who is currently holding a 0.00 ERA through 17 innings pitched with three saves. "We all love playing the game and we love the competition. We are looking forward to a lot of great softball this week."
At publishing time, Ferris softball was in action. Check fsutorch.com for an updated story.