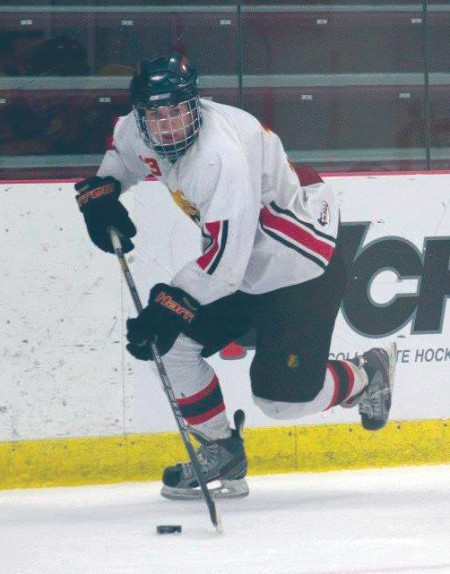 The Ferris State hockey team made a push toward another visit to the National Championship game this season and with that came the opportunity for one Bulldog student to show his skills.
Mike King is a senior in the Ferris Television and Digital Media Production program. When the Ferris hockey team's season stretched into the playoffs, Ferris Athletics Social Media Coordinator Michael Corn was looking for help in shooting highlight footage for his web show, "Bulldogs Unleashed."
"Mike brought along a great amount of help. All season long it was a struggle for me to cover both ends of the ice, and with the playoffs coming up, I knew there would be some great opportunities to get some good coverage," Corn said. "Since Mike was a part of the club hockey team and in the TDMP program, I knew he knew a lot about hockey, and he definitely came through."
King played hockey for the Bulldogs' club team for four years and has also been the captain of the team for the past two seasons. King also helped coach and produce highlight footage of a hockey camp in Minnesota called the Hartland Hockey Camp. King said he really gets the best of both worlds being able to play, coach and produce content for the game of hockey.
One of King's highlights while working for Corn was filming the game-winning goal by Ferris State defenseman Scott Czarnowczan and the team's celebration against Bemidji State in the WCHA playoffs. King's shot of that moment was shown during the NCAA Selection Show and also made an appearance in a 30 second commercial of the Bulldogs' hockey team, which aired on ESPN.
"I captured the goal clean and got some really good shots of the celebration. To see my work on ESPN and the big screens at Van Andel is a great feeling," King said. "It's pretty cool to be able to say, 'Hey, I shot that goal.'"
Corn said having an extra set of eyes on the ice and someone who knows the game so well made his job a lot easier during the playoffs.
"Mike has an amazing eye for the game. He takes into consideration a lot of the small details that most people would miss," Corn said. "I didn't really have to tell him what to do; he knew what needed to be done. I learned a lot from him and he had a ton of great ideas. I trusted him to do a good job, gave him a set of guidelines and told him to get as many shots as he could. He really came through."
Both King and Corn gave a lot of credit to the success of the TDMP program at Ferris State for preparing King to step into the role and come up with so many great shots.
"Over the past four years that I've been here, the TDMP program has grown so much. We have full HD production trucks for games where we can stream live events. The quality of work we do and the education you get from the TDMP program is awesome," King said. "It really helps you transform from an amateur in this business to a true professional, and we can attribute that to the professors here."
King graduates this spring and plans to work another summer in Minnesota with the Hartland Hockey Camp. More of King's work can be found at youtube.com/michaelkingfilms.