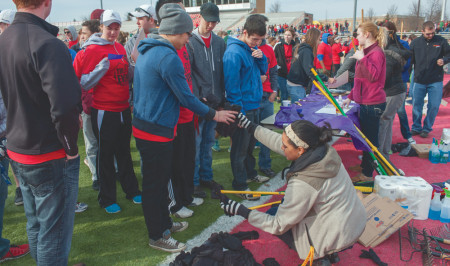 Ferris students came together to give back to the Big Rapids community during The Big Event on Saturday.
The Big Event is a citywide, student-led initiative to improve Big Rapids by performing various yard work and maintenance tasks for residents. Every year, this day of giving back to the community attracts thousands of students.
Ferris hospitality senior Selena Brown led her own team for The Big Event this year. Brown has volunteered at the Big Event for the past five years and has led her own team for three.
"I am a giver by nature, so volunteering to help the folks in the community hits a soft spot in my heart," Brown said.
Brown led a group of students from Ferris' theater program, a few of whom are, like Brown, members of Alpha Psi Omega, the theater fraternity. Brown rounded up 30 volunteers, who were divided into small teams to cover more ground.
Ferris students participate in the The Big Event each year to say "thank you" to the Big Rapids community for its support of the university. Volunteers perform various services for residents such as yard work, washing windows and painting. Brown added that residents are always very thankful for these services.
"The people we help are so thankful for the volunteers that help out. Many of them are able to take care of their properties but appreciate the extra hands. They are usually incredibly kind and they thank us profusely," Brown said.
Ferris forensic biology senior Cassie Halt was part of Brown's team and led her own small part of the group.
"I always enjoy signing up," Halt said. "It's nice to give back to the community every once in a while. The only downside is that we did it before that huge storm came through."