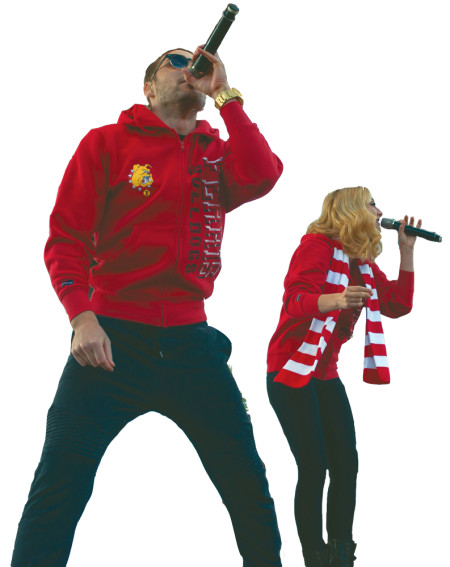 Before Karmin took the stage at this years Ferris Fest celebration, band members Amy Hiedemann and Nick Noonan gave the inside scoop on their recent album as well as what's coming next.
The engaged pop-duo Amy Heidemann and Nick Noonan who, apart from touring, have been very busy in the month following the release of their first full studio album "Pulses."
"We're excited to finally have it out," Noonan said, "but we aren't stopping. Our goal right now is to play the shit out of [the album]."
Prior to the release of "Pulses," Karmin had released two extended play albums, the most recent of which, called "Hello," contained their first hit on the American charts, the single "Brokenhearted."
Both Heidemann and Noonan studied at Berklee College of Music in Boston. While both went there with the intention of studying music, Heidemann states she had no particular vision for what her career would be after graduation.
"You learn the college version of the music industry in school," Heidemann said, "but it's different, of course, once the real world comes. I think everyone goes into college with an idea, at least, of what they want."
The two started to gain a following with videos of the two performing cover songs on YouTube before gaining attention for their cover of Chris Brown's "Look at Me Now." And while rapping is a signature part of Karmin's style, Heidemann said she learned to rap by accident.
"I found a love for hip-hop when I was young and rap was an interest," Heidemann said, "but I was raised in a conservative household, so my parents wouldn't let me own anything with the 'parental advisory' sticker on it."
Heidemann said she mostly practiced rapping in the shower until she listened to a burnt copy of Dr. Dre's album "2001," after which Heidemann states she "fell in love."
"I found out I could rap and the whole thing just kind of came from there. The biggest set-back was when I found out I was white," Heidemann said, jokingly. "But there have been a lot of white and female rappers coming up now."
The two attribute their success to the rising popularity of YouTube, turning the site into a go-to for record labels seeking out new talent.
"YouTube's definitely become that place to find the next big thing," Noonan said. "I think that's only going to become more and more the case."
The duo took the Ferris Fest crowd by storm by not only interacting from the stage but also inviting students up to rap alongside them to Chris Brown's "Look at Me Now."
If the roaring crowd at this year's Ferris Fest would assume Karmin's hard work has more than paid off. In the long term, Noonan and Heidemann said they don't see themselves stopping anytime soon.