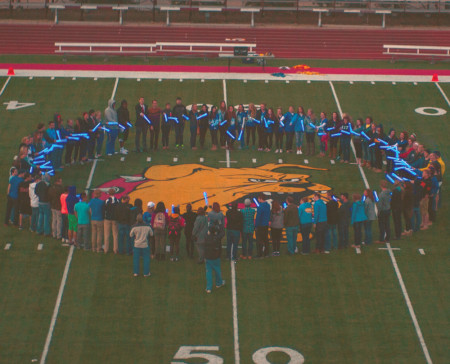 Ferris students gathered in Top Taggart Field to "light it up blue" for Autism Speaks as a part of Autism Awareness Month.
The "Light It Up – Autism Awareness" event occurred on April 23 and was sponsored by the Center for Leadership, Activities and Career Services and Alpha Xi Delta.
"[The event] shows Ferris really cares about the diversity of all people and getting students involved," Ferris junior communications major Jacquelyn Beard said.
Participants received blue foam glow-sticks and gathered in the center of the field around the Ferris Bulldog. A photograph was taken and sent to the Autism Speaks national website as a way to show Ferris' support.
Beard attended the event to support the cause and the sorority hosting the event, Alpha Xi Delta.
"[Autism] is something so many people go through and for Ferris to do something like this is really cool," Beard said.
According to the National Institute of Neurological Disorders and Stroke (NINDS), autism is a neurodevelopment disorder characterized by social impairments, communication difficulties and restricted patterns of behavior.
For one Ferris student in particular, autism is close to home.
Ferris sophomore pre-radiography major Emma Karas has a younger brother with autism and said he is part of the reason she chose to become a Resident Advisor on campus.
"I know sometimes you have to deal with people who are very different and you can't judge, you have to be patient and accepting," Karas said.
Karas said her brother is high functioning but has some social problems.
"Sometimes it's hard because he doesn't always want to talk about what everyone else is talking about," Karas said. "It's an experience and you have to be patient."
One of the most common signs of autism is impaired social interaction. Other indicators include averted eye contact, failure to respond to others and lack of empathy, according to NINDS.
There is no cure for autism, but symptoms can improve with age and treatment.
Karas said she is happy Ferris is supporting a cause she feels very close to.
"I think the event was a really cool idea and a step in the right direction for Ferris," Karas said.