Welcome to Big Rapids, your new least favorite home.
The quaint country town has its distractions and its attractions, but out-of-towners, it can be a bit scant. There are two solutions: make your own fun or get the hell out of Dodge. This is for those who favor the latter.
Grand Rapids
Do you remember downtowns, those sprawls of specialty stores and one-off cafes? Big Rapids has one, and even has some cool things! But Grand Rapids has more: comic shops, record shops, music venues, multiple bars. Gather a gaggle of friends and spend a lazy Saturday down there. You might actually be able to find a movie you want to see, and on a great screen.
Big events are alive and well down there, too. There is baseball with the White Caps, hockey with the Griffins, big concerts at Van Andel Arena. In those hockey- and concertless lulls, find your fix down south.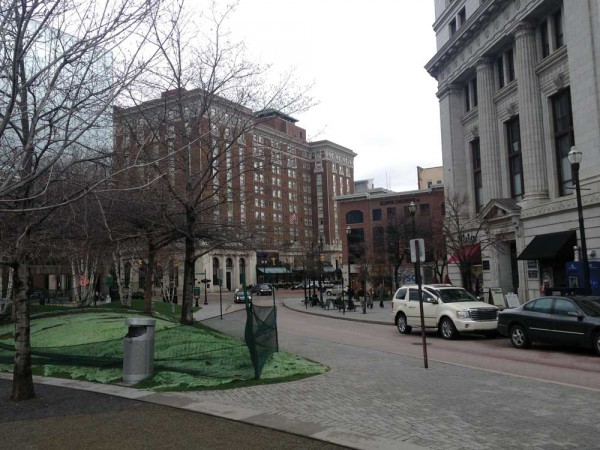 Silver Lake Sand Dunes
The Silver Lake State Park offers 3,000 acres of forestry and Lake Michigan-abutting coastline, all ripe for a nature lover's enjoyment.
Activities abound: golf, fishing, paths and trails, bikes and boats. Big Rapids offers a number of these things, scenery and activities, but not on the scale available on Michigan's West Coast, and not with a body of water broaching the level of Lake Michigan. Take the day off from cramped dorms, odious roommates, and homework to go bask on a beach.
Michigan Adventure
Like Cedar Point but don't have the money or the time? Hit up Michigan's Adventure for a day of "fun." Sure, most of the rides are for kids and the water park's always crowded but you can ride Shivering Timbers for a seventh time without it getting old, right?
Michigan's Adventure, located in the scenic heart of Muskegon is great place to go for a few hours on a Saturday. And of course, one cannot deny that kettle corn.
Soaring Eagle
That refund is burning a hole in your pocket, and you have a night to kill. Slots, blackjack, keno, poker – there are plenty of people here eager to take your money. Who knows, you may even win! The camaraderie that grows at a hot blackjack table is electric – walk away with an armful of chips and it makes for a fantastic night.
Sure, you'll probably lose and never experience that – but there's always a possibility. Gambling is all about the rush of the risk, the thrill of victory and the agony of defeat. So, if you feel like a rush or a thrill before some crushing agony, head on over to Mt. Pleasant. You can even ease your suffering by catching a movie at a movie theater with more than four screens.