In January of 2015, the construction of the new campus University Center will be complete.
The Rankin Center, the previous home for several RSO offices, Westview Café (now Westside, relocated to Bond Circle), and the student lounge, was torn down last summer to make room for the upcoming University Center. By the looks of the plans, it'll be twice the size.
Michael Hughes, vice president for the physical plant and one of many involved in the construction of the University Center said only 80 percent of Rankin was going to be torn down, with the University center to be built on what remains of the old building.
"The interior of the building will be gutted to the structure and rebuilt. The Dome Room will be completely demolished to make way for a new multi-event space," said Hughes, prior to the construction in 2013.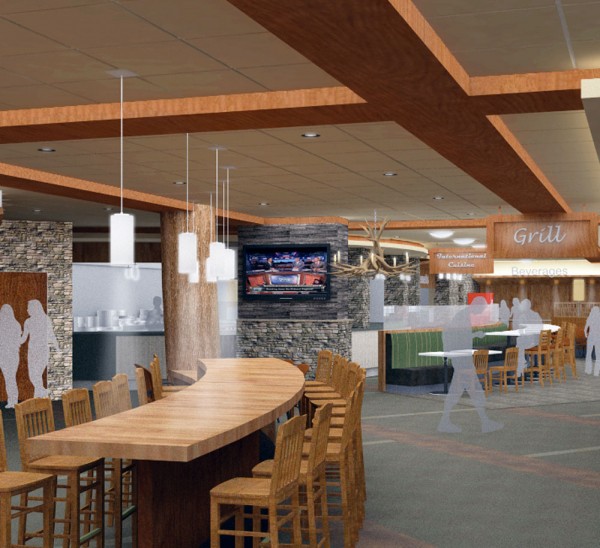 The construction of the University Center, due to be completed this coming January. Construction ran through the winter of 2013-14 without pause for the weather. Then construction has been on schedule since it began.
While the Rankin Center was home to many facilities for students, the new University Center promises to offer even more.
Conceptually, the new University Center will be a highlight of Ferris architecture and a staple of tours in a similar fashion to the FLITE library.
According to Hughes, the University Center was commissioned not to just give a large space for students to convene in, but largely to give Ferris State's campus a "facelift." The new building will look similar in size and feature to FLITE and the Timme Center. It will also give the Ferris campus a more unified look as a whole.
On the inside, the building will house many features intended to add to student life. The center will have parking spaces for commuting students, multiple venues for food and retail, including the campus bookstore (which has currently been relocated to State Street), "aid student leadership" by providing student organizations with appropriately sized and easily located meeting places, as well as a comfortable place for students to meet, relax, socialize and study.
The project reportedly has a budget of $33.9 million. The University Center is scheduled to be complete by December 2014 and will reopen to the public in January 2015.