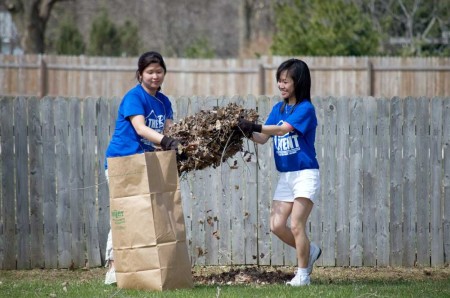 Students who desire contributing to a greater good, opportunities for new friendship, and building their resume can take advantage of the many service options Ferris offers.
The volunteering choices at Ferris range from doing yard work for residents of Big Rapids to 5k runs to RSO-specific service.

Volunteer manager and Optometry senior Nichole Conley recommends that students wishing to volunteer should join the Volunteer Center on OrgSync to stay up-to-date on current service postings.
Conley also advocates becoming a member of an RSO that requires volunteering to be done through their organization.
"Benefits to volunteering would definitely be meeting new people and having network opportunities," said Conley.
Conley also added that students who volunteer at campus career fair are not only are they getting volunteer hours for doing so, but they also get to interact with the employers and could potentially get interviews or internships.
Even for students with hectic schedules, there are always volunteering opportunities.
"For busy students, I would recommend Safe Ride–it runs during the weekends where they may have more time to volunteer," Conley said.
Circle K International, a service-based organization and RSO at Ferris, is an excellent group to join for students interested in jump-starting their volunteer activity.
"Our main purpose is to perform community service for the Big Rapids area and to raise money which can be put directly back into the community," said Amber Cumings, Circle K president and pre-optometry senior. "The motto that we often live by is 'live to serve, love to serve!'"
Members of Circle K are encouraged to complete at least 15 community service hours with the Haunted House the organization puts on.
Other events Circle K members participate in are the Toboggan Race, Relay for Life, the Big Event, and putting together Easter baskets for the Department of Human Services.
"Individually participating in things can be difficult, but it's possible," Cumings said. "A great way to get involved with service is to find a service-based RSO."
Those wishing to join the Circle K can contact the newly elected president, Andrew Zwerlein at zwerlea@nullferris.edu.