Contrary to popular belief, there is more to Greek life on campus than parties.
Fraternities and sororities can provide a home away from home and long-lasting friendships. Joining a Greek organization exposes students to a large network of colleagues with similar interests, too.
Going Greek can also help freshmen transition successfully into college life and find internships and job opportunities, according to Interfraternity Adviser Mark Schuelke.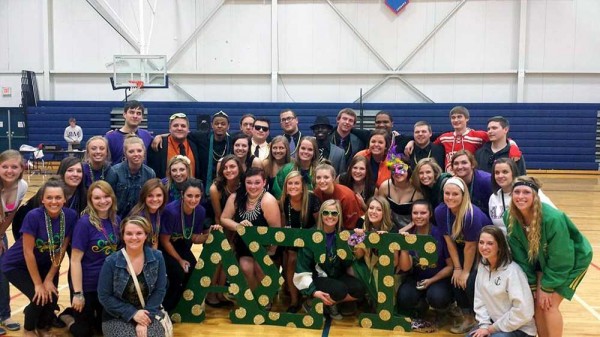 Alpha Sigma Tau and Phi Sigma Kappa celebrate being lip sync champs during Spring Greek week. Being part of the Greek community gives you the opportunity to participate in events such as these on campus.
"Greek Life is ultimately about supporting your philanthropy, sisterhood and brotherhood, and networking," pre-pharmacy senior and member of Lambda Kappa Sigma Sara Kolc said.
According to Schuelke, Greek life exists to promote the shared interests and values of its members in leadership, scholarship and service.
"[Greek organizations] promote growth for our brothers and sisters as individuals and members of an organization through teamwork, accountability, collaboration and leadership," Schuelke said.
Ferris has 21 Greek organizations on campus representing three councils: Black Greek Council, Interfraternity Council and Panhellenic Council.
Joining a Greek organization can provide you with several opportunities to develop personally, according to Schuelke.
"Greek life for me has been an amazing experience," Ferris marketing junior and Pi Lambda Phi President AJ King said. "I have become more confident with myself, and I feel like I'm a student with a purpose."
Some of the opportunities include connections, leadership skills that can be applied to a future career, volunteering experience, coordinating events and activities on campus, networking with individuals with similar interests and future career contacts.
King said networking was a key benefit for him; he landed an internship through an alumnus in his fraternity.
"If you decide to join a Greek organization, besides providing a family away from home, it can help you develop and grow as an individual," Schuelke said.
In addition to professional development, networking perks, and serving the community, Greek organizations know how to have a good time on campus as well.
Greeks participate in social events such as Greek Week, homecoming, the BIG Event, mixers, retreats and formals.
Greek Week is a week-long event during the spring semester that has been a Ferris tradition for over 30 years.
Homecoming events include a lip sync competition, kickball tournament, and bonfire, comedian, parade and football game during Sept. 29 – Oct. 3.
Schuelke recommends anyone interested in joining the Greek community check out all the fraternities or sororities before they decide.
Freshmen can get involved with Greek life by exploring the different fraternities and sororities during the rush weeks at the beginning of the semester.
"My hometown is three hours away, but my sisters truly are my family and make me feel welcomed here," Kolc said. "I can't picture what my college experience would have been if I didn't go Greek."