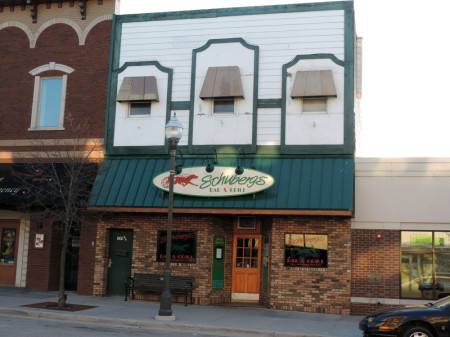 To a newbie, Big Rapids may not seem like the most hopping place in the area.
However, a little exploring will yield more than a few hangouts for the college kid looking to have a good time away from that frat parties and typical college kid debauchery. Here are some major attractions and a handful of easy-overlooked holes in the wall every Ferris student should visit at least once.

The Gate
More spacious than The Pub and Shooters, The Gate is the ideal place to spend a Friday night. For those not old enough to drink The Gate is also home to a large bowling alley where you can get a full game and shoe rental for $5. The Gate is also the place to see student bands perform as well as the nicest atmosphere to spend a night with friends.
For those who are of age, The Gate has a great alcohol selection at a reasonable price. A night at The Gate will often promise a fun, but not too rambunctious night. It's also a great place to pregame before heading to house parties available in the area.
Schuberg's
If you're looking for a classy bar, there's nowhere in town that compares to Schuberg's, located in the historic district of Big Rapids. Schuberg's has a great selection on tap but for those not old enough to drink they serve bar food that's actually good.
More than their alcohol selection, Schuberg's is known mainly for one thing: their burgers, including their signature Schu-burger. When it comes to burgers, Schuberg's will hook you up with the best in town. Looking for more expert advice? Ask for the sweet potato fries. It doesn't matter that they charge extra.
Nawal's
By far the most exotic food to be found in Big Rapids, Nawal's Mediterranean Eatery serves Mediterranean food, made by the lovely Nawal herself. If you're feeling adventurous, try a lamb gyro followed by one of the famous Nawal's cupcakes.
Nawal's is a bit on the pricey side so while you definitely get what you pay for, it's not the kind of place you visit every week. But with the service, atmosphere, and those cupcakes, you might just decide to let your wallet take the hit.
Gypsy Nickel
One of Big Rapids hidden delights, you'll miss out on a good time if you forgo a trip to the Gypsy Nickel. So, as is pretty much the case with all of the restaurants on this list, I'll get it out of the way: Oh my God, the food. So much variety. Eat here.
Moving on, what's unique about the Gypsy Nickel is that it's a conscious hang out for Ferris students; it wants you to come in and stay awhile. Every Wednesday is karaoke night and several weeks throughout the semester they'll host a trivia competition. Really, Gypsy is beyond my praise, please seek it out, you'll have a good time.
Ala Mode
This place is so small most people don't discover it until their sophomore year. Just across the Maple Street bridge is Ala Mode, made noticeable only by a large sign reading "Eat." And eat you will, probably a little too much as most people will tell you. There's no better breakfast in Big Rapids than one from Ala Mode.
What most people will tell you about Ala Mode is that it's small, and it is. It's maybe the size of one and a half dorm rooms so the space is tight and it's almost always packed. But if you can stand close corners nothing compares to a breakfast from Ala Mode.