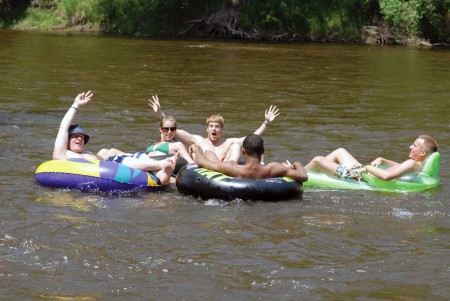 Big Rapids may seem small, but this just makes each item on the short "must try" checklist worth experiencing. Other than one-time annual events such as "Turn Up the Good" and Ferris Fest, pickings can be slim. With that said, there are a few standards most students can agree on.
Tubing
As soon as it warms up a little, students hit the river. Not swimming or canoeing, but tubing. It keeps you cool and it keeps summer tedium at bay. The Sawmill Tube and Canoe Livery offers tube rental and transportation, but some people go so often they'll have tubes to share.

Tubing enthusiasts are many in Big Rapids. One such fan is dental hygiene freshman Meredith Brown.
"It's fun because you relax and sit there with friends/family enjoying the weather and company and water while chit-chatting and eating/drinking and tanning," Brown said.
Hockey
Although football reigns at many Division I schools, hockey reigns at Ferris. Hockey games are always an exciting event and they provide the most success for Ferris Athletics.
Information technology and security senior Connor Ivens is certainly a fan (and one of many).
"Attending a hockey game here in Big Rapids is unlike anything else; the atmosphere that surrounds the Ferris State team is so incredible," Ivens said. "Just being in the rink with them is enough to bring you to your feet. It's more than just a game, it's a lifestyle that can really encapsulate anyone."
It will be a few months until they hit the ice again, but it's worth marking your calendars now. Winter sneaks up on Big Rapids faster than any of us prefer.
Photo with Brutus
Who are the Bulldogs without Brutus? Brutus is a fixture of events, and not just the sports ones. Hockey games, Relay for Life, random events in the IRC; Brutus is always around to pump up students. Grabbing a photo with him is tradition.
Sometimes, it's even more than that. Music industry management senior Becky Bernard took a snapshot with Brutus at a photo booth for fun. She ended up stumbling her way into a gift card just by donating some money to the local animal shelter.
"I took a picture for my boss not knowing it was for a contest or donating to the animal shelter. Then I realized it was for a good cause, and if I got the most likes I could win gift cards to local businesses in [Big Rapids]," Bernard said. "I ended up winning with over 280 likes."