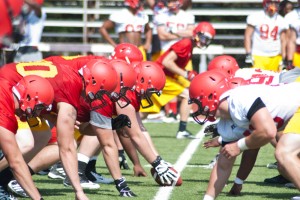 Football season is here, with college play kicking off and the NFL gearing up from preseason to the regular season.
To this young ex-Minnesotan, that used to mean quarterbacks bombing passes to Randy Moss again – a delightful thing. Now, all I see are the negative headlines. 
Sports are more profitable than ever before, with teams selling for one and two billion dollars since 2012 in professional baseball, basketball, and football. It's football, though, that has been incessantly plagued by unflattering headlines.
The league that once seemed infallible now has major issues to attend with. Concussions are the biggest headline, but an overall perception that the league has an unshakable thirst for money at the expense of human life is the issue underlying everything.
The concussion issue isn't going away, despite the 765 million dollar settlement in the biggest, most recent case. Star Denver Broncos wide receiver Wes Welker suffered his third concussion in eleven months – an alarming number – against the Houston Texans. This lead to the circulation of an even more damning number: Welker's concussion was the 61st of this year's NFL preseason.
The fate of post-career football players isn't the only strike against the NFL. The Ray Rice controversy – Rice was accused of assaulting his fiancee, and there is video of Rice dragging her limp body from the elevator they had been riding – erupted into righteous fury when the NFL gave Rice a two game suspension.
The league has since apologized for giving Rice a lighter penalty than he would've gotten if he'd smoked marijuana, and it beefed up its domestic abuse policy – eight game for the first offense, lifetime ban for the second – but the damage was already done to the shield's already tarnished image.
There is also the fact that the league is asking its next Super Bowl halftime performer to pay to play, an insulting request, but that pales in comparison to the humanitarian issues. It just further feeds the question of just how many dollar signs light up the league's eyes before the first human life pops up.
Because of all this and more, there is a very real perception that the NFL is a league that resolutely denies any wrongdoing or systematic problems – whether they be concussions, violence, or otherwise – beyond the point of having no ground to stand on.
Commissioner Roger Goodell can go ahead and say "We do stand for important values." The number one value for these leagues is always money, but that shouldn't be at the cost of people's lives and well-being, and it shouldn't be so obvious.
As for the NCAA, that's a completely different set of horrifying (to the fan) realities.