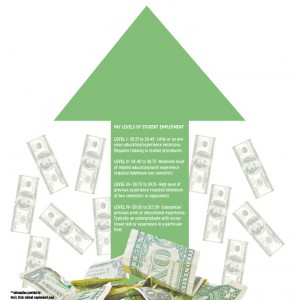 The passing of the Workforce Opportunity Act will provide all students working at campus facilities with a significant raise in pay. The act, passed last May, will require the state minimum wage to be raised annually over a period of five years until it finally hits $9.25 per hour on January 1, 2018. The first of these annual increases took effect on September 1, increasing the minimum wage from $7.40 to $8.15. Ferris State University made the decision to implement the transition early on August 17.
According to Student Employment and Financial Aid Advisor John Randle, it was much more efficient  for both the Office of Student Employment and the Payroll Office to process each student's records once instead of filling out paperwork for the old rate and then again two weeks later when the increase officially took place.
In addition to raising the minimum wage, the university is also increasing the pay rate for all student workers on campus.
"Preliminary estimates are that [the wage increase] will require more than $500,000 in new funding so that student hours are not impacted," said Randle. "This funding will be provided through a variety of sources—departmental funds, central funds, financial aid dollars in the case of Work Study."
Student workers who are concerned about the possibility of their hours being cut don't have to worry.
"The goal of providing the additional funding was to offset reductions in student work hours," Randle said. The maximum amount of hours students can work will remain at 26 hours per week.  However, most student employees only work around 15 hours a week.
The increase in wages also has yet to impact how much on-campus hiring has been going on so far this year, which is good news for students seeking employment. According to Randle, the number of employment opportunities seems good compared to previous years, though he urges students to apply for jobs early on, since there are fewer opportunities later in the semester.
"Students should know that working on campus can be very beneficial," Randle said. "Studies show that students who work on campus are more likely to stay in school and graduate. They also develop work skills that will help them in their future full-time employment. Then, of course, there is the experience and income that student employment provides. I would encourage students to work on or off campus, but to remember that school comes first. If there is a magic number as far as how much is too much for a student to work, I would say try to limit work to twenty hours or less during the school year, if possible."
All student workers can expect to be earning at least $8.15 per hour, but there are four different levels of pay ranges that student jobs fall under as categorized by Ferris' Student Employment website. Level one, which requires only routine training and no prior work experience pays from $8.15 to $8.45 an hour.  The second level, in which the tasks get more difficult and prior work experience may be necessary pays from $8.40 to $8.75/hour.  Level three, which raises the bar for training and experience even further, pays from $8.75 to $9.15/hour and level four from $9.15 to up to $12/hour.
"We have an incredible student workforce of more than two thousand students annually," Randle said. "While it is often a challenge any time wages are increased, the benefits we gain from hiring students far outweigh any financial concerns."
The Student Employment Office works with all departments on campus to determine which level any given position should belong to. If a department believes a student should be paid higher than the level they belong to, the department contacts Student Employment, which compares the position with similar jobs on campus to decide if raising their wages is warranted.
To facilitate the gradual minimum wage increase in the coming years the University realizes that further accommodations will need to be made.
"Although there are no plans in place yet, there are increases required to begin January of 2016 to $8.50, January 2017 to $8.90 and January 2018 to $9.25," said Randle. "Ferris State University will comply with those requirements. The university, however, has not determined how it will implement the increases. The process may be different because the increases occur mid-year instead of at the beginning of the academic year. Ferris will do whatever is best for all involved."
For more information about student employment on campus go to http://www.ferris.edu/admissions/financialaid/employment/ for details.