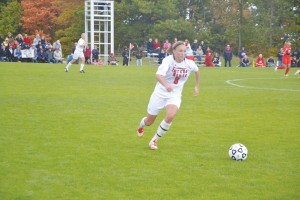 The Ferris State women's soccer team will rely heavily on a big group of incoming freshman this fall during the 2014 campaign.
The Bulldogs finished the 2013 season with a 9-8-3 record, which included a 7-1 home record. The team lost a group of seniors to graduation, a group which included team captain Amanda Foster, and will look to rebuild with a group of eight talented freshmen.
Of the talented freshmen is midfielder Rachel Fouts. Fouts is looking forward to her freshman year on the Bulldog soccer squad and is looking forward to making 25 great friends and starting her college career off on the right foot. She also knows there will be challenges along the way for the Bulldogs.
"I think our biggest challenge will be overcoming our mental obstacles," Fouts said. "When the game gets down to the last 20 minutes, we need to keep pushing through."
Junior outside back Ashley Bradstreet also thinks the team will face some challenges along the way, but is confident in the potential of the team.
"We lost a bunch of seniors and losing a team captain is always tough. It's going to be a hard transition," Bradstreet said. "We have a lot of leadership roles that need to be filled, but we have a good incoming freshmen class who are going to step up and challenge the older players."
The Bulldogs are entering their second year under head coach Andy McCaslin. Despite losing some seniors to graduation, the Dawgs will return 16 letter winners from last season, a group which accounted for 29 of 30 Ferris' goals from a year ago.
"With it being Coach McCaslin's second year, we are definitely more comfortable with his coaching style and training sessions," Bradstreet said. "Hopefully that will show during the games."
The 2014 women's soccer team was voted fourth in the GLIAC Pre-Season Poll. The Lakers of Grand Valley lead the way in the voting and are also ranked number one nationally to start the season. Michigan Tech finished second in the poll, followed by Ohio Dominican.
"Obviously we are really looking forward to playing Grand Valley this year, that is always a big game," said Bradstreet. "We're also really excited for our first home game against Saginaw Valley. We have quite a few big regional games early in the season which will be a good test for us. We are starting off ranked fourth in the polls, so we'll be looking to finish in the top three or four of the GLIAC for sure."
The Bulldogs will begin the 2014 campaign on Sep. 5 against Truman in the Ramada Plaza Invitational in Allendale with kickoff slated for 4:30 P.M. The home opener is scheduled for Sep. 14 against the Cardinals of Saginaw Valley.