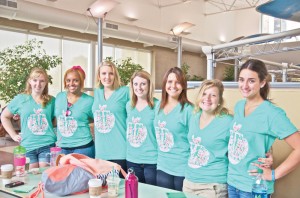 Ask anyone involved in Greek Life and you're sure to get the same response—joining a fraternity or sorority was one of the best decisions of their college career.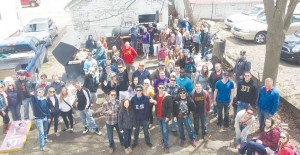 So, how are students supposed to know which Greek organization is their future home away from home?
"If you are even a little interested in Greek Life, take a little time to check out every fraternity/sorority with an open mind," said Spencer Boyd, president of Alpha Chi Rho.
To check out each fraternity/sorority, potential recruits will go through the processes of Rush or Recruitment in order to find one that best complements them.
"Recruitment is about finding the right sorority that fits you and finding girls you can go to whenever you need anything," Health Care Administration and Human Resources senior and Alpha Xi Delta president Alexis Lancour said.
Sorority Recruitment is set up in a way that allows potentials to go to each sorority's "room" where they talk about their organization's values, responsibilities, and philanthropy.
Alpha Xi Delta aims to aid women in realizing their potential, which is what attracted Lancour to the group.
"When I went through Recruitment, I absolutely loved the Alpha Xi Delta room," Lancour said. "I just felt comfort and had real conversations with genuine women—I could see myself calling these girls my sisters someday."
Fraternity recruitment, also known as Rush, is set up in a similar way in order to expose students to the fraternities on campus. Each fraternity occupies a room where they have the chance to give a 15 minute presentation about their goals and standards to potential members.
"We switched to the Formal Rush because a lot of the time, guys will want to join fraternities for things that aren't actually there, such as parties, houses, [and] things like that," Marketing junior and Lambda Chi Alpha president Brandon Stabley said.
Lambda Chi Alpha focuses on serving others.
"You're going to talk to [the potentials] and make them feel as welcome as possible," Stabley said. "A lot of the time, it's hard to make a decision that quick, but most of the time, people just kind of know if they fit in or not."
For those who don't "just know" during Recruitment and Rush, it could be a sign that they might not be ready to join a sister/brotherhood yet.
"It is intimidating, and you should never rush the idea of joining if you aren't sure," Stabley said. "Even if the fraternity shoots you down, it just means you weren't meant for them."
Finding the Greek organization that's meant for you can be difficult, but it also can be as simple as feeling a sense of belonging in the presence of its members.
"You shouldn't have to settle for a particular group," Boyd said. "You should be able to find one that fits you well and makes you feel very welcome."
Formal Rush begins September 6 at 1 p.m. in the IRC. Formal Recruitment begins September 12 at 5 p.m. in the IRC.