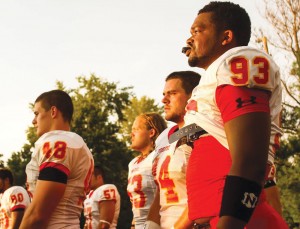 With Ferris State's football offense catching a lot of attention, the defense for the Dawgs are pushing hard to work their way to the top of the GLIAC.
The 2014 squad handled McKendree University (0-1) in extraordinary fashion, defeating the Bearcats 75-14. The Bulldogs held the Bearcats to just 14 points, all of which were scored in the first half of the contest.
Junior corner back, Sean O'Brien, was happy with the team's performance on Thursday evening, but believes there is a lot of room for improvement for the defensive squad.
"I thought we played well as a whole, for it being the first game," O'Brien said. "We gave up 14 points in the first half, but we rallied together as a unit in the second half and shut them down. Our defensive coaches made some key adjustments at half time that allowed us to not give up any points in the second half. We gave up 300 total yards and half of those came on two big plays. We need to eliminate the big plays, communicate a little more, and have high energy for four quarters."
For the most part, the defense for the Bulldogs held off the McKendree offense, holding them to 207 yards through the air and 129 yards on the ground. The Dawgs also held the Bearcats to just three conversions of their 14 attempts on third down.
Redshirt freshman defensive back, K.C. Zenner, and sophomore linebacker, Anthony Darkangelo, both played big roles in the win for the Bulldogs and will prove to be a big part of the defense going forward. Zenner and Darkangelo had six and five total tackles, respectively, in the night cap and Darkangelo also added an interception.
"I thought our defense played well, it's a good start to the season for us and I'm happy with how we played," Darkangelo said. "It's the first game of the season so there are definitely some things we need to clean up and improve upon. The main focus for us is to have fun, fly around and make plays."
Junior defensive end, Justin Zimmer, had similar thoughts on how the Ferris State defense preformed in the Thursday night matchup. Zimmer thought the Dawgs played well, but still have many aspects of their game to tighten up.
"Our defense played well at times but there are always things we can keep improving on," Zimmer said. "We need to improve each week so we can become the championship level defense that we want to be."
The 2014 Bulldog defense are looking to improve upon a defense that was strong in 2013. During the 2013 campaign, Ferris allowed opponents an average of 356 yards of total offense. They also held opponents to just 39% completion on third down opportunities. O'Brien says the team wants to keep improving every day and says that the improvements begin during practice.
"Improving every day starts at practice. We have to practice how we are going to play," O'Brien said, "bringing high energy every day and coming ready to get better. One thing we are going to focus on improving throughout the year is eliminating that big play threat and that all comes through communication, mental preparation, and tackling. We have to improve on creating turnovers, so that we can get the ball back to our explosive offense."