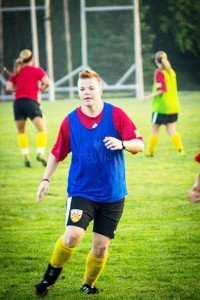 With two seasons left to carve a name for herself on Ferris' women's soccer team, Maddie Haustein hopes to expand her role this season.
Soccer has been a substantial part of Haustein's life ever since she was a child.
"I remember playing when I was three years old. I have a twin brother who is not at all athletic, and I can remember us wearing matching uniforms playing together," Haustein said. Haustein went on to say that she was in fact, far better than her brother on the soccer field.
While abundant talent came naturally to Haustein, she has had some trouble with injury, and it continues to be an issue that she hopes to get past.
"I've been injured for most of my athletic career," Haustein said. "I had knee surgery in high school and ankle surgery in the spring of my freshman year at Ferris."
The ankle injury kept her sidelined for the entire 2013 season, but Haustein saw a silver lining in this setback. "It helped me to push through some things. It's sometimes nice to see the game from a different perspective. I learned from watching on the sidelines instead of being involved all the time."
With an optimistic point of view on both her past, and the future, Haustein has a feeling of determination when looking towards the coming season.
"I think we've got a good chance to do something that we haven't been able to do in the past," Haustein said. "Across the board we've got a lot of good depth, which we have never really had before. Our bench has been really competitive for the starting spots this year."
Because of this level of competition amongst the squad, starting positions are hard to come by. However, Haustein is taking the right steps toward the coveted spot.
"We train twice a week outside of the normal team practice with the goalkeepers, and Maddie works at training," Ferris soccer head coach, Andy McCaslin, said. "She's vocal in training sessions and is really trying to be a leader in the group".
McCaslin believes Haustein is focused on the team effort and being a better leader on the field. The second year head coach also believes that Haustein is aware that she must earn her role on the team.
"She understands what it means to be a Ferris State soccer player. She understands the system, how we play and how we train," McCaslin said. "She also understands that nothing is given. She's fighting for a role on this team, and the younger players see that and look up to her for that reason."
While stats from her freshman year will prove that Haustein can be a compelling force in the keeper's box, she is also highly-spoken of by her teammates on a personal level.
"Maddie brings a sense of sisterhood with no blood relation. If anyone has an issue, they'll go to her and talk to her and she will bring you back to feeling better," junior midfielder and roommate of Haustein, Abby Meirndorf, said. "As for her ability on the field in goal, when she did step in during our freshman year, she was playing through an ankle injury and recent knee surgery and was just able to come in and play at a high level. I think it says a lot about her."
Haustein will continue to work towards a starting position on the team, and hopefully stay injury-free for the remainder of her eligibility. The biology and pre-physical therapy major is also working as a part-time EMT and is hoping to one day open her own clinic. With a work ethic and attitude like hers, her potential is boundless.
"She is a terrific person. She's a positive person who looks on the bright side of bad situations," McCaslin said. "She has a tremendous attitude that will stay with her well beyond Ferris State. Maddie's going to make an impact in whatever she does because she's just such a high-character person."