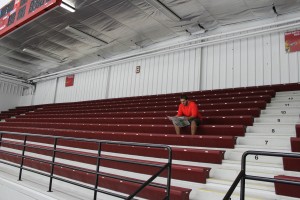 Ferris State athletics are back in the swing of things and off to a great start.
There's one thing lacking when it comes to Ferris State athletics that I would love to see more of; fan involvement.
Sure, the Dawg Pound is packed weekend after weekend when the hockey team hits the ice. Who doesn't love Bulldog hockey? A division I hockey program coming from the small town of Big Rapids and being a national powerhouse and Frozen Four contender year after year, what's not to love?
Ever been to a Ferris State football game? How many do you go to every year? I'm guessing one, which I'm willing to put money on is the homecoming game. How many volleyball matches have you attended? Tennis matches? Soccer games?
Friends of mine attend colleges all around the state of Michigan, anywhere from Central Michigan University and Michigan State to Grand Valley State University and Saginaw Valley State University, who are our GLIAC rivals. The fan involvement in these universities blows that of Ferris State's out of the water.
Fan involvement is more than just attending the events. From time to time, we can find the gymnasium and athletic fields packed with fans, but how many of those fans are actually paying attention to the games? How many of those fans are just sitting and texting their friends or checking Twitter? How many of those fans are actually cheering on our fellow classmates and Bulldog's? My guess is not many.
Stadium atmosphere plays a huge role in athletics. Remember those student sections you had in high school when your team was playing its arch-rival? Remember all those ridiculous chants that were started and all the pregame rituals that were prepared before each matchup? Who's to say we can't have that here at Ferris State?
Fan involvement can change the tempo of a matchup, it can change the atmosphere, and it can change the attitude of the players on both squads for better or for worse. The unpredictability of fan involvement is what makes it such an exciting aspect of the game.
All I'm saying is, we talk all the time in our classrooms and our RSOs about getting involved, so why not get more involved in the athletics at Ferris State? Go to a tailgate before a football game and sit in the student section and cheer on your fellow Bulldogs. Go to a volleyball game and yell at the top of your lungs. Go to a Ferris basketball game and get hyped at the tip-off. Get involved with Ferris State athletics. That's all I'm saying.