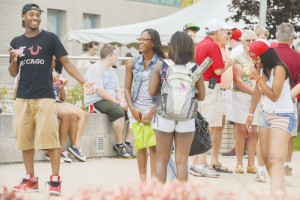 Though many Ferris students use the long weekend to travel home, Big Rapids was a happening place over Labor Day weekend.
The city annually hosts Riverdays, a series of community events throughout the weekend that are free to the public. The festivities began this year on Thursday, Aug. 28 with the University's Founder's Day celebration and the corresponding Ice Cream Social and Picnic. Other notable events included an All-City Yard Sale on Friday, the Big Bad Wolf Adventure Race triathlon on Saturday and three performances by local community theatre group, Stage-M. They featured selections from the musical Songs for a New World. Monday featured the forty-sixth Annual Arts and Craft Show and ended the weekend-long Friends of the Library Used Book Sale, courtesy of the Big Rapids Community Library.
Many students from FSU's Honors Program take part in the yearly book sale held at the recently renovated community library on Friday and Saturday before moving to Hemlock Park in conjuncture with the Arts and Craft Show on Monday.
The sale is a good way for honors students to earn volunteer hours.
"I've volunteered for the Friends of the Library book sales over Labor Day weekend,"  second year pharmacy student Nick Larson said.  "This will be my fourth year [of participation]."
Also attending the craft fair were Ryan Kaiponen and Rachael Bleshenski, second and first year pharmacy school students, respectively. Although the couple had to seek shelter from the rain under the book sale pavilion, they were able to make other Riverdays events.
They attending a yard sale at the Old Jail where they bought a few items, toured the facilities and even the inside of an old jail cell. Other time during the weekend was spent around Big Rapids with friends, painting pictures and walking their dogs.
Other students use the long weekend as an opportunity to work and make money. Chris Smith, a senior marketing major, spent much of his time working at Pepper's Café and Deli in downtown Big Rapids.
"I've pretty much just worked all weekend," Smith said, "but I have a buddy here and we make music—electronic, hip hop and EDM (electric disco music)."
Still some students spend their Labor Day weekend visiting friends, family or significant others.
"Saturday I went to see [my boyfriend] Louis in Ypsilanti," Evelina Jones, a sophomore english education major, said whose boyfriend attends Eastern Michigan University.
Jones, who grew up in Big Rapids, was also able to use the long weekend to celebrate her brother's birthday. The full celebration included a bonfire and a concert at The Pub under Pizza King featuring three different bands, dancing and free soda for minors and a small party with beer and games of Cards Against Humanity.
From the campus police perspective, this past Labor Day was a quiet weekend with very few incident reports.
According to Jim Cook, Assistant Director of Public Safety, the holiday weekend was comparable to previous years.
"Mostly it's some alcohol and some marijuana complaints. That's really what it boils down to. It's very much a typical weekend," Cook said.
Cook attributes the quietness during Labor Day weekend partially to the large amount of students who leave Big Rapids for one "last hurrah" with their family and friends back home.
"[I'm] looking forward to having a great year with all the students being back and I hope everybody stays safe and calls us if they have any problems," Cook said.
The Department of Public Safety can be reached by calling (231) 591-5000.