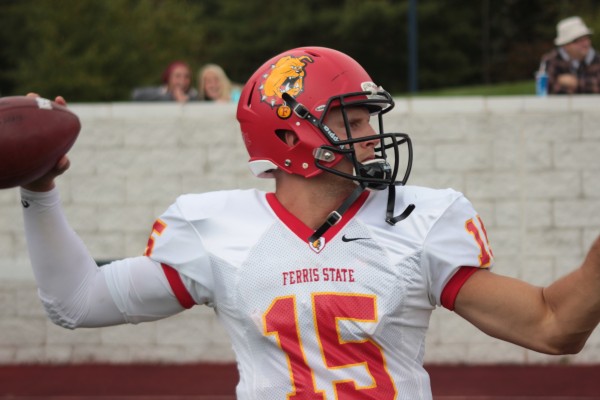 Ferris moved to 2-0 with a decisive 27-7 victory to open conference play on the road at Northwood University.
After receiving the opening kickoff, the Bulldogs wasted little time before putting points on the board with a 67-yard touchdown run by junior quarterback Jason Vander Laan less than one minute into the game.
The Bulldogs followed with another quick score. This time Vander Laan's arm was on display as he completed a pass to junior slot receiver Antonio Agurs for a 56-yard score. The extra point was no good, leaving the Bulldogs up 13-0.
The remainder of the first quarter and much of the second was scoreless for both teams, until Ferris put a strong drive together capped off by a 3-yard rush into the endzone by senior wide receiver Jake Lampman just before halftime.
The third quarter was a battle of defenses, as neither offense could gain any steam. Finally, at the start of the fourth quarter, the Bulldogs took over at their own 36-yardline and took their time driving the length of the field, before Vander Laan connected with Agurs once again for a 7-yard touchdown.
Northwood finally got on the board midway through the fourth quarter, returning the ensuing kickoff into Bulldogs territory. The Timberwolves took advantage of their good field position, marching down the field all the way to the one-yard line. Once there, sophomore quarterback Mitch Robinson was able to run it in for the Timberwolves' first touchdown of the day. These were to be the last points of the game.
The Ferris State defense stayed tough throughout the game, allowing seven points and 213 yards of total offense.
Meanwhile, the Bulldogs were able to put up 352 yards of combined offense, which was less than half of what they did in their historic season opener at McKendree last week.
This effort was headed by Vander Laan, who finished the day with 117 passing yards and two touchdowns in the passing game, both of which were caught by Agurs. Vander Laan also had a rushing touchdown and 89 yards on the ground.
Next week, the nationally ranked No. 24 Bulldogs will hope to carry this momentum as they play their first game at Top Taggart Field against archrival Grand Valley State for the Anchor-Bone Classic Trophy.