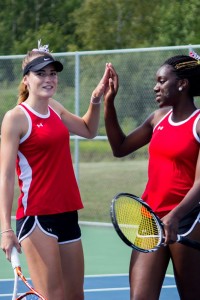 Ferris State women's tennis starts 2014-15 season off strong as the teams early success rests on the shoulders of the Bulldogs own dynamic duo.
Early on this season, the Bulldogs posted a 3-0 record, which includes two impressive victories against Lake Superior State (9-0) and Michigan Tech. (7-2) in GLIAC play.
Ferris State has been led early this season by the one-two punch of junior Shawnee-Ann Brelsford and freshman standout, Noelly Longi Nsimba. Brelsford and Nsimba are partners on the doubles court and hold a 2-1 record so far this season.
As a freshman, Nsimba has been impressive on the court for the Bulldogs early in her collegiate career, remaining undefeated in singles with a 3-0 record.  For Nsimba, adjusting to collegiate tennis has been a smooth transition.
"I was doing tournaments, so playing every day like we are doing here isn't new for me," Nsimba said. "When you come in as a freshman I think you have a little bit of pressure on you because you want to impress and play your best game right away, but naturally you start feeling more comfortable with everyone and the team and you feel less pressure."
Both Nsimba and Brelsford have been happy with how the Bulldogs have preformed so far this season, but think there is always room for improvement for the team during the stretch that is to come.
"We've done really well considering we have a new team and had only two weeks to get to know each other both on and off the court," Brelsford said. "Our schedule is going to get more challenging from here, so I think its great that we started the season on a positive note and gained some confidence."
Brelsford and Nsimba both agreed on one important factor that the Bulldogs need to improve upon during the season, that being the team's doubles play on the court during their startup.
"I've always considered myself more of a singles player, but strong doubles is a must in college tennis," Brelsford said. "We have been working a lot on doubles during practice and as a team I think the main focus right now should be forming close relationships with each other and working together as a team."
Nsimba had similar thoughts on the issue concerning the improvements of the doubles play. Nsimba said they need to feel more comfortable with each shot and get to know their partners better. Nsimba and Brelsford will be leaned on heavily as Ferris looks forward facing conference foes for the remainder of the regular season.
The Bulldogs next match is slated for Wednesday, Sept. 17 as they face the Timberwolves of Northwood University in a GLIAC match-up with first ball set to be served at 2 p.m.