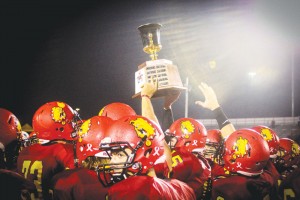 Ferris State football will play its first home game against archrival Grand Valley State this Saturday as the Dawgs look towards starting 3-0.
The football match-up between Ferris State (2-0) and Grand Valley (0-2) goes back quite a ways. With the first game played in 1971, the rivalry known as The Anchor-Bone Classic is in it's 43rd showing.  The series record currently stands at 27-14-1, with Grand Valley claiming the majority of the victories, despite Ferris winning the last two.
At this point, Grand Valley has already travelled all the way to California to take on Azusa Pacific, and played Ohio Dominican at home. Their first trip resulted in a double overtime loss, 26-23. In the Laker's second game, they suffered another close defeat, 28-24.
Meanwhile, the Bulldogs have recorded a record-breaking blowout victory against McKendree 75-14, and also defeated Northwood in good fashion, 27-7. Having shown that they can win on the road early, the Bulldogs will be returning for their first home test.
Redshirt freshman running back, Jahaan Brown, is one example that a player doesn't need to be around for years to develop strong feelings against a school rival.
"Yes, I have a lot of Bulldog pride now. I've adopted everything that a senior has," Brown said. "I dislike Grand Valley just as much as the next guy on our team. For me, every  time I step on the field with them it's personal."
Although emotion and hype play a part in every rivalry game, Brown and the rest of the team have maintained a level head.
"Our team is very business-like. We go out there and take care of what we need to do, so the conference win is more important to us than any bragging rights. Bragging and boasting is not what I do," Brown said.
In his third season at the helm for the Bulldogs, Head Coach Tony Annese further emphasized that his team refuses to get caught up in the hype.
"I think we're really focused on the task at hand. We know that we're only guaranteed eleven chances at this," Annese said. "I like to compare it to a ladder. You have to step on every rung of a ladder, and if you miss a step, then you end up falling down. We've taken the first steps against McKendree and Northwood, and now we're stepping up to Grand Valley. And I feel very confident that we'll give our best effort at that home opener."
For the past two years, the Bulldogs have successfully taken care of business. In the 2012 season, the Dawgs visited Grand Valley's own Lubber Stadium and took the win and the Anchor-Bone Classic Trophy home with a final score of 54-44. In the following season, the men in the crimson and gold also came out on top, winning 40-24 during a rainy night contest.
However, when looking at the seasons preceding 2012, the last time the Bulldogs beat the Lakers was last century in 1999.
Redshirt freshman linebacker, K.C. Zenner, was around for the Bulldogs' triumph over the Lakers last year and believes his experience with the rivalry will help to keep him focused and humble.
"They have a great program and they always come out and play tough. I have a ton of respect for them," Zenner said. "Still, this game doesn't have any more hype for us than any other game on our schedule. We view everyone as being dangerous."
While the Lakers can boast the sixth year senior experience of Heath Parling at quarterback and talent in receiver Jamie Potts, Coach Annese and the Bulldogs still remain confident in their own team.
"We've been more multi-faceted with our passing game. We're trying to throw the ball more effectively and not lean on our quarterback so heavily, though he really has been a dynamic rusher for us the last couple of years," Annese said. "I know that our versatility is something that a lot of teams that play us have to be concerned about. Our ability to run the ball, pass the ball and all of the options that we have in the running and passing game make us tough to prepare for."
The Bulldogs and Lakers will square off at Top Taggart Field in Big Rapids this Saturday, Sept. 20th with kickoff slated for 7 pm.