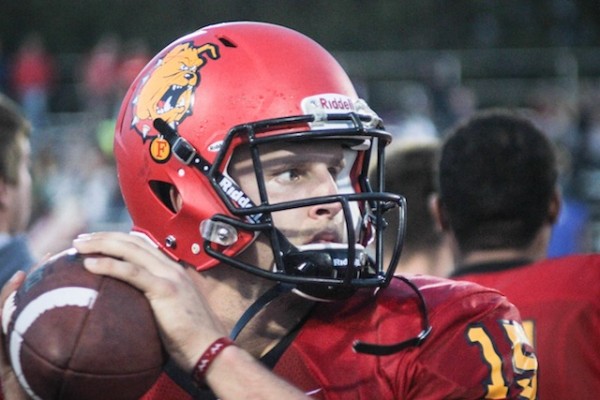 Ferris State signal-caller has kept his eyes on winning games for the Bulldogs, even when he is ripping pages out of record books as he does it.
Record-breaking junior quarterback, Jason Vander Laan, has accomplished so much as an individual. In 2013 he set a national record for single-season rushing yards by a quarterback, which now stands at 1,607 yards. Still, he will not be satisfied until he can lead his team to the top of the conference.
While opposing coaches and statisticians will make note of Vander Laan's staggering numbers and ever-growing list of awards, he is chiefly concerned with the success of the team.
"The only goal that we really have is to try going undefeated, but besides that we'd like to win the GLIAC. There really are no individual accolades that I'm going for. We're focused on this team making the playoffs because we've had a good team for the last two years, but we have yet to win the conference or make the playoffs. It's kind of getting old not being able to get there, so that's what we're focusing on." Vander Laan said.
Redshirt Freshman center, Jake Daugherty, has spent much of his football career snapping the ball to a quarterback. Needless to say, when that ball being snapped ends up in Vander Laan's capable hands, the offense will benefit. However, Vander Laan also benefits his team through leadership.
"One of the biggest things about Jason is that he just reaches out to everybody. Whether it's other quarterbacks, or the offensive line, or defensive line, linebackers, running backs or anyone else, he just reaches out," Daugherty said. "He brings such a positive attitude to the game of football. He's great with the team. Everyone on the team loves him because we know that he'll do anything for anybody even if he doesn't know you that well or you're new on the team."
Because expectations for a quarterback require Vander Laan to throw the ball accurately, stay mobile enough to avoid defenders, and understand and read both the offense and defense as the play unfolds, the best way to develop a quarterback is through years of field experience.
"I started playing in fourth grade and on the first day of camp, my coach wanted me to play quarterback, and that's what I've done every year since," Vander Laan said. "I played some defensive positions along the way too, and even got recruited as a linebacker at some schools, but playing quarterback has always been my priority."
Despite holding a national record for rushing yards and being on pace for yet another incredible season, Vander Laan still critiques himself, and works hard to improve upon his shortcomings.
"I think I've got to worry about throwing a little bit more. We had a lot of success through the air in week one, but I struggled in week two. So I was more proud last year of my run game, but I'd like to be able to take more pride in my passing game, I'm just not there yet. That'll come with becoming more comfortable in the pocket and making the right throws at the right time, so I'm hoping that as the year progresses and all of the work that I put in during the offseason is going to pay out and that I'll continue to get better at passing, which just makes the team better in general."
Talent and experience can account for a lot of Vander Laan's success, but the best that he can do is put the ball in a spot for his receivers to make a play on it. Without a strong connection and understanding between the quarterback and receiver, a passing offense will struggle. Thankfully, Vander Laan has established a tight bond with his regiment of receivers and his God.
"He's a vocal and active leader. He leads by example and he's a man of god," senior wide-out, Jake Lampman said. "I think that's a huge reason he is able to lead the way like he does."
While the last few seasons have been positive for the Bulldogs, they have not always known such success on the gridiron. A concrete example of this dramatic improvement is the team's recent success against rival Grand Valley State.
After losing eleven straight games against Grand Valley beginning in 1999, the Bulldogs have been able to turn the tides and capture the last three.
Thus far, the Bulldog record supports their claim that they can beat anybody. With two consecutive good seasons dampered by a failure to reach the playoffs in the past, and with Vander Laan at the helm once more, perhaps the third time will be the charm for this.