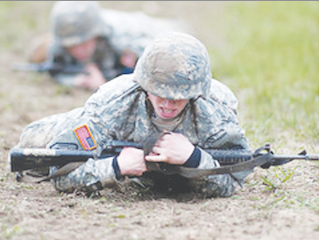 Some Ferris students are looking for more than a college diploma when they graduate.
Reserve Officer Training Corps (ROTC) is a program for students that offers more than education.
"[The ROTC] is one of the many avenues used to become an Officer in the U.S. Army," nursing senior Brittany Lynn said. "It is open to people who have never been in the service, as well as prior enlisted."
The ROTC is a program that provides many benefits to those who join.
"It's all leadership classes," Sargent Stanley Pelak said. "A lot of civilians take the ROTC program simply for the leadership possibilities."
Life as a student in the Reserve Officer Training Corps may not be an easy road to travel, but it's well worth the hard work and dedication.
"Every lab we have the opportunity to learn something new about the Army and perform tasks that will eventually be asked of us as Commissioned Officers," Lynn said. "The most obvious of benefits, and the one most people ask about is the monetary portion."
Lynn will graduate with her BSN without any student debt, and that is largely thanks to the ROTC program.
"Being a contracted Cadet is almost like having a part-time job," Lynn said. "We are paid twice per month and depending on the path chosen, tuition can be 100 percent free. For the majority of us, it's not about the money, but we would be lying if we said it wasn't a bonus added on to the already vast benefits."
Anybody that's a part of the ROTC program graduates with a Military Science minor and can choose to commission as an officer.
"When you graduate with your bachelor's and want to commission as an officer, that's when you choose whether you want to join the Army Reserves, The National Guard, or competing for active duty," Pelak said.
Many students in the ROTC program join for the benefits, but they also gain a Ferris family and lifetime friends.
"The ROTC program is a family to me," Lynn said. "We are not just students that meet a couple times a week and then go our separate ways, we build relationships that will last our entire career in the Military. Team cohesiveness, respect and integrity are the building blocks of the program."
Pelak also found a deeper motive to joining the ROTC.
"Personally, it's just me growing," Pelak said. "I'm growing with people and helping them grow and becoming officers. It's about obtaining their goals."
The ROTC office is located on the sixth floor of Bishop hall. Anyone looking to sign up can speak to Stanley Pelak in room 621.
"A lot of people use the ROTC classes to show future employers that they are competitive," Pelak said. "Many people don't speak to military simply because they're scared or intimidated."
According to Pelak, the military is more than just fighting in wars and arms races.
"The military scares people," Pelak said. "They think war, they think all kinds of stuff. If people could bypass their fears and talk to me about joining, they'd probably see that it's a good fit for wherever they're going."
If you're interested in joining, email Pelak at stanley.r.pelak.mil@nullmail.mil.