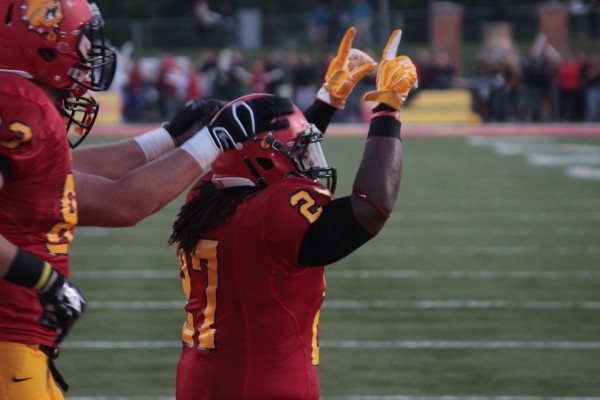 What a night it was Saturday evening. It rained all day long, through pre-game warm ups, and as soon as the Ferris State football team hit the field just minutes before kickoff, the rain ceased and the sun poked out of the clouds.
It turned out to be a beautiful night for football, and of course, the Bulldog's coming together in the victory formation to expire the clock in the fourth quarter to cap a 42-17 beat-down of the Grand Valley State Lakers didn't hurt either.
Back-to-back-to-back. It's been three years in a row that the Dawgs have drowned the Lakers and as a fan and supporter of Bulldog's athletics, there is no better feeling.
For as long as I can remember, Ferris has always been sort of undermined by Grand Valley in terms of athletics, almost as some would call it, a little brother. Times are changing and the Ferris State football program is slowly, but steadily, beginning to make a big name for itself.
After an 8-3 season a year ago and just missing out on the opportunity to head to the playoffs, after beating Grand Valley for a third consecutive season on the grid iron, and after starting the season out with a 3-0 record, I think we're going to see the Bulldogs move quite a ways up in the national rankings. They were ranked 18 before the victory against GVSU and have now advanced to sit at No. 14.
We've got the offense with a versatile quarterback in junior Jason Vander Laan, a wide receiving core that most offenses in the league would die to have with names like Jake Lampman and Shakur Sanders. And, an offensive line that has kept Vander Laan upright and has been extremely impressive in the running game.
We've got the defense with defensive ends like Justin Zimmer and young, talented linebackers such as redshirt freshman KC Zenner. When you add the upperclassman leadership with guys like senior linebacker Darnell Morris causing havoc in the middle, and junior cornerback Troy Smith deflecting passes left and right, this defense may be one of the best Ferris has seen in the last 10 years.
It's time to get excited about Bulldog football. The sky is the limit for this team. All I'm saying is, a deep playoff push is not out of the question for this team. That's all I'm saying.