Senior volleyball player, Courtney Rehm, is in her final year of action on the court, and hopes to help carry her team to success this season.
In 2011, Rehm won GLIAC freshman of the year, and was given a place on the All-GLIAC second team in the following season. Rehm was also an all-GLIAC performer in 2013. In addition to her athletic success, Rehm can also boast a place on the All-Academic team during her junior year. With such an impressive resumé, one could expect Rehm to demand the spotlight, but in actuality, she shines in the shadow of others.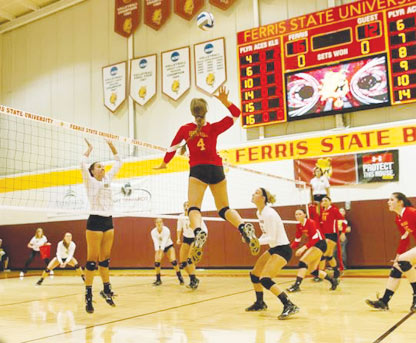 "A lot of my former team ended up being athletes in college, and one of them is now the lead outside hitter at Michigan State, so not a lot of light was shone on me. It actually caused me to work harder, so when I came to college my goal was to do the best that I can no matter what," Rehm said. "I had this intensity. I'm here to win. There was just this fire that I carried over from high school, and I just wanted to play and have fun doing it."
While in high school, Rehm had athletic interests outside of volleyball. When she wasn't on the court, she could be found on the track, or in the dance studio. She was involved with a dance program for 13 years and set a school record in high jump with an impressive 5'6".
"I actually went to the Bulldog Invite during my freshman year to do the high jump, but I went unattached. I remember I was wearing volleyball spandex and a Dri-fit and there were all of these legitimate high jumpers surrounding me and I was extremely intimidated by all of these serious people," Rehm said. "Anyway, I did it once and it was nice, but volleyball has been my number one, and I didn't really have as much of a passion towards track."
This passion for volleyball eluded Rehm at an early age. In fact, the unfamiliarity of volleyball is what originally drew Rehm to the sport.
"I started playing volleyball a little bit later and it was so different from what I had been used to because I had danced for a long time. I went from this graceful, beautiful thing where we're polite, and we're gentle and elegant, to just this raw emotion and I love that. No matter what we're doing it's just pure emotion when you get that kill. What I love most about volleyball is how in your face it is." Rehm said.
Junior teammate Danielle "Dee Dee" Dowd also feels the emotion spoken of, and regularly sees Rehm displaying it on the court.
"Courtney also brings a level of intensity and excitement to the game. If someone gets a good kill, Courtney is right in their face screaming about how awesome it was and it's very rewarding to see that, especially if you're on the court and just did something good. It's good to have someone out there to tell you that 'this is awesome, this is great,' and that's what Courtney does." Dowd said.
Fellow senior player Claire Grawburg also makes note of how enthused Rehm is when points go up on the board in the Bulldogs favor.
"I think something that's unique about Courtney is no matter who scores a point in the game, she always makes you feel like you're on top of the world. It doesn't matter if she's the one killing it, or if someone else is doing really well, because the point that you score is just as exciting to her as the point that she scores, and I think that's really great." Grawburg said.
With her immense experience and success playing volleyball at a collegiate level, Rehm has stepped into a leadership role on the team. Having shared four years of her life training and playing alongside Rehm, Grawburg commends Rehm's leadership, composure under pressure and helpful personality.
"I think when it comes to pressure situations, Courtney is someone that you can look to on and off the court," Grawburg said.
"Because she's a leader, she has a lot of experience on the court. She has a very steady sense of composure and I think that really helps our team when the pressure starts to come down on us. She's someone that helps keep our team calm and playing at a steady level."