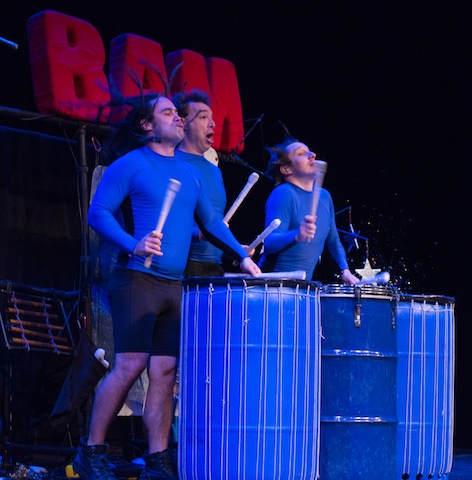 Ferris students had the chance to get involved with a group that refers to themselves as the biggest, smallest show in the world.
The talented group, BAM Percussion, came to Ferris on Saturday, September 27 to wow the crowd.
"BAM is a comedy-percussion show," creator and manager of BAM Percussion Jean-Sebastien Dallaire said. "It started with three guys who wanted to do something different. We wanted to do something that had theatricals in it and was more on the entertaining side."
The pulsating energy of BAM is contagious. Through drumbeats and laughs, it overwhelmed the audience. After 75 minutes of powerful rhythms and hilarious sketches, the audience was left wanting more.
"It's a family show," Dallaire said. "There's no language barrier, so it's nice that everyone around the world can understand it. You can appreciate it if you're four or 84. It's fun for everyone."
The sketches involve a language that can only be spoken by BAM known as BAM speech, but with colorful expressions, BAM speech can be understood by everyone.
The show was very involved with the audience, going so far as to bring a student out of the crowd to perform with them.
Criminal Justice freshman Abbie-Jo Johnson was the lucky audience member who was chosen to perform alongside BAM.
"It was an adrenaline rush," Johnson said. "I wanted to get on stage with them so bad. It was so exciting. I love getting involved with things."
BAM was constantly getting the audience to participate, such as clapping to the rhythm or mimicking the BAM language.
"The show was really great," Plastics Engineering freshman Patrick O'Neill said. "I loved how [BAM] brought the audience into the show."
BAM has been traveling around the world since 1999, performing in concert halls, theaters, festivals, schools, and outdoor stages in front of crowds of 5,000 and more.
The group has also toured Canada, the United States, South America, Asia, Africa, the Middle East, New Zealand, and 11 European countries, making everyone laugh in their own language.
Combine pulse-racing drum beats, humor for all ages and cultures, an intense rhythm, a couple of characters straight out of a crazy cartoon, and a lot of fun, and you'll get what BAM Percussion really is- a universal event made for everyone.
If you're interested in learning more about BAM Percussion, visit their website at www.bampercussion.com.