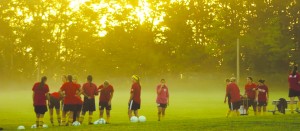 Following a disappointing first half of the season, which transitioned into a hopeful turnaround, the Ferris State soccer team has earned a spot in the GLIAC Playoffs. This will mark the Bulldogs fifth consecutive berth in the tournament.
This tournament berth was no happy accident, as it took a conscious team effort to stay afloat after beginning the season on a bad note. Thankfully, the Bulldogs were able to pull together as a unit and began turning the tides of the season early in October, as they were able to put together a series of 5 wins in just 7 consecutive games.
"We struggled to score and play a full 90 minutes in September. We are still the same team, and have the same goals now as we did then. We have just found a way to click and compete," senior midfielder Riley Wood said.
Sophomore goalkeeper Savanna Wojtanowski, who was recently awarded with GLIAC defensive player of the week honors, believes that the team's defensive unity has been a major strong point on the season.
"They all play great defense. Not just the defenders, but the midfielders and the forwards. We're all playing defense as a team, which is great," Wojtanowski said.
For the past two years, the Bulldogs have been able to advance past the quarterfinals in the GLIAC Tournament. However, there have never been Dawgs playing for a Tournament Championship, but this reinvigorated squad will hope to change that.
"We're hungry for a championship because we know we have it in us. This year started off rough, but I think we clicked at the right time," Wood said. "We are only improving and winning more games, while some teams are starting to fall off at this point. So I think we are in the right position to enter the tournament."
In order to advance, the Bulldogs will have to take on some stiff competition. After dropping a game to Grand Valley State at home 3-2 and then again getting bullied in a 7-2 loss in Grand Rapids, the Bulldogs will take on their old nemeses once again to start the GLIAC playoffs this week.
"We are confident with how we are playing and we knew that to win the GLIAC, which is one of our goals, we would have to play Grand Valley at some point," Wood said. "We have gone toe-to-toe with them every game and our coach has prepared us for this. It's hard to beat a team three times in one season, so we're ready to take them on."
Grand Valley State ended the season with a 15-2-1 record, and finished second in the GLIAC Conference Championship with Ohio Dominican. They enter the tournament as the #10 team in the nation. Not to mention, they've won the GLIAC Tournament six years in a row.
If Ferris were to beat GVSU, they would then move on to the semifinals for the third straight year and take on the winner of the Michigan Tech and Walsh matchup.