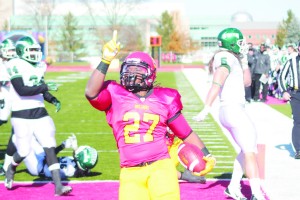 Following a 66-56 shootout win with Lake Erie, the 9-0 Bulldogs will have a shot to reach double digit wins at home against Northern Michigan.
"We started with a football game and ended with a track meet," head coach Tony Annese said. "Total offense, 708 versus 706, I know our defense is going to be a little discouraged by our productivity."
Annese joked that the turf was so worn out that it may need to be replaced after the 122 point explosion.
Despite the defensive struggles to stop Lake Erie's offensive onslaught, the Bulldogs came away with some positives.
Ferris garnered multiple awards, with Division II player of the year candidate Jason Vander Laan snagging GLIAC player of the week honors, while the offensive line was named the National Offensive Line of the week.
Vander Laan also broke the GLIAC single game quarterback rushing record with 284 yards on the ground. Vander Laan finished with three rushing touchdowns and three passing touchdowns.
The AFCA coach's poll has Ferris State ranked fourth in the nation, while Ferris is ranked first overall in Super-Region Four.
Now Ferris turns their attention to a 2-7 Northern Michigan team that has played Ferris close over the last two seasons.
It took a last second touchdown to receiver Jake Lampman to best the Wildcats in 2012, while Ferris escaped with a 35-22 victory at home last season.
This marks the second consecutive season that Northern Michigan will visit Top Taggart Field.
Northern Michigan quarterback Shaye Brown has thrown for 1,912 yards and averages 239 passing yards per game, which is third best in the conference. His top target, Marcus Tucker, has five touchdowns on 646 receiving yards.
Tucker is the only Wildcat to be named GLIAC player of the week in any category, as a special teams player on Oct. 20.
Tucker is the GLIAC leader in kick return yardage with 651 return yards. He has no touchdowns on kick returns, but has an 84-yard return to his name this season.
Wyatt Jurasin leads the Wildcats on the ground with 655 yards and five rushing touchdowns in eight games.
Ferris will enter the contest on a nation leading 13-game win streak, while the Wildcats come in having lost six of their last seven games.
The Bulldogs played close with a now 4-5 team, and head coach Tony Annese was less than pleased with certain aspects of the game, but is thankful that the team came away with a victory. A loss in college football can be the difference between a home and a road playoff game.
"It's almost like a new lease on life," Annese said. "Being able to be 9-0 now, have a Northern Michigan come here to clinch a share of the GLIAC title. I told them at half time, you should be able to feel that ring about a quarter of the way down your finger."