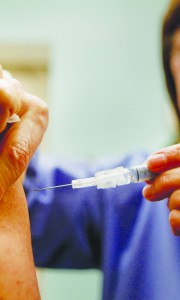 Over-looked this year due to the "Ebola crisis", the changing of the weather should remind Ferris students that with the new season comes the flu season.
"Thousands of people die every year from influenza," said Candace Price, registered nurse and Office Coordinator at Birkam Health Center, who said the flu is one of the most easily spread viruses on campus. "Many students are living under close corridors. Influenza can easily be spread by coughing, laughing, sneezing or even singing."
Although the flu has yet to be spread widely on campus, according to Price it wouldn't take much for it to happen. With only a few untreated cases able to spread the virus rapidly to the point of it getting out of control.
Ferris student Phil Hartley, a junior studying physical therapy, concurred with Price's sense of urgency in getting a yearly flu shot, saying that not only should students get the shot, but its their responsibility to do so.
"A lot of people don't even realize the risk involved. They think 'it's not going to happen to me,'" said Hartley. "It's so stupid that people are putting their health at risk. Though it may be true that pharmaceutical companies are trying to make a profit, for the most part, they're concerned about the public health."
Hartley said that a large portion of student's deference to getting shots is due to the fear of receiving a shot; a fear that Hartley says is baseless.
"There's no reason to be scared of needles with the flu shot. It's not that painful and over before you know it," said Hartley. "The longest part is sitting in the waiting room."
The flu vaccine is covered by most insurance providers at Birkam Health Center; students may call ahead for an appointment. A "rapid test" for the flu is available for those who are experiencing symptoms.