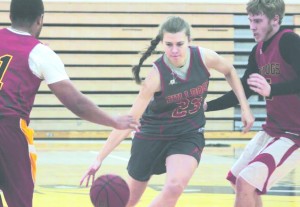 Sophomore guard on the women's basketball team Natalia Bukur has come a long way to suit up in the crimson and gold of Ferris State.
Originally hailing from St. Petersburg, Russia, Bukur must've packed a killer 3-point shot with the rest of her luggage when she made the trip across the Atlantic Ocean.
"She's a really good athlete. She's very offensive-minded, I mean she can shoot from anywhere. She's learning the system and it might take her a while, but she can downright shoot." Head Coach Colleen Lamoreaux-Tate said.
Bukur specializes in shooting from 3-point range. She claims to have been blessed with natural talent, but also stressed that she has worked to refine her characteristic shot.
"Her three-pointer is definitely the best part of her game. She can nail a three-pointer from anywhere on the floor," junior guard Katie Mavis said.
Though her offensive prowess will help her to find her way onto the floor, she must also adapt a strong defensive game to match, which means adjusting to some unfamiliar strategies.
"I put a zone in the other day and she just took to it really easily. When we started practice we did skills with the team and in man-to-man she just wasn't getting it as well as I thought she would," Lamoreaux-Tate said. "Then when we put in a zone she understood the concepts and everything, so I said 'Wow you really know this zone!' and she just smiled and said 'Yeah, that's all we ran in Russia.' Then it all made sense."
Another struggle that Bukur is fighting to overcome is recovering from an ACL injury that plagued much of her last season, which was spent playing for Kirtland Community College.
"I heard that last year she played some games on a torn ACL, so to play through that really says a lot about her work ethic," Mavis said. "Still, as far as practice goes, she's always working hard and getting into the drills. We have to explain it to her a little bit more in-depth, but once she gets the hang of it she's good."
Despite the slight bouts of confusion when dealing with new surroundings and systems, Bukur says that she has no trouble with any language barrier, and she is fitting in well with the coaches and team.
"That's how our team is with any newcomer. We just try to make her feel at home and let her know that she is a part of the family," Mavis said. "I'll bet last year was more about adjusting for her and this year she's more accustomed to the culture and the language, so she's definitely fitting in."
The strong family atmosphere and support that she has found from her team has helped Bukur to not only make the transition to the Ferris State area, but also to a whole new country.
"My city is like the second capital of my country, so it is a very big city. I like smaller towns too, so coming here is not a problem for me," Bukur said. "But I will go back to Russia when I am done with school."
Approximately 4,400 miles lie between Bukur and her hometown of St. Petersburg, Russia. Whether or not she can make a shot from that distance has yet to be seen, but with her perceived ability from beyond the arc, it shouldn't be ruled out entirely.
The team will open exhibition play against Notre Dame on November 5 and Toledo on November 8. The Bulldogs will then hit the road to play a two-game series in Nashville, Tennessee against Kentucky Wesleyan and Trevecca Nazarene on November 21 and 22, respectively to tipoff the regular season.