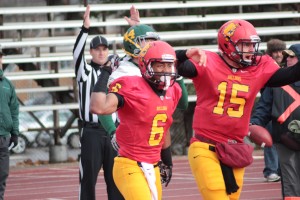 For the first time since 1999, the Ferris State Bulldogs can lay claim to a conference championship and moved to 10-0 on the season.
"Before we overanalyze the challenges we faced in that game, a credit to our young men over the course of the whole season to do what they've done to put themselves in this position," head coach Tony Annese said. "I'm just thankful I'm coaching a great group of young men who believed and worked hard to make a dream a reality."
The outcome wasn't a given by any stretch. Ferris trailed the Northern Michigan Wildcats 14-7 at halftime on their own turf.
"I think at some point in time the football gods said 'Ya know Ferris has got a chance to win a GLIAC championship, let's make sure they earn it,'" Annese said. "We've leaned on [quarterback Jason Vander Laan] so much over the course of the last three years, and he wasn't the sharpest he's been, but ultimately he fought through and his power to carry us really gives us a lot of confidence."
The Bulldogs opened the scoring when quarterback Jason Vander Laan rumbled into the endzone from five yards out in the first quarter to put the Dawgs up 7-0 with 6:59 to go in the first.
Wildcat runningback Terrence Dye answered three minutes later as he ran to open space and found the endzone. Northern struck again with 28 seconds remaining in the first half to put the Bulldogs down 14-7 at the half.
Ferris fumbled the opening kickoff in the second half, and then went on to score three unanswered touchdowns, including back-to-back touchdowns by Vander Laan on the ground to push Ferris ahead 35-17 where the score would stand until the final whistle.
"I wanted at least on that field, because typically it's business, our guys have been so good at leaving [Ohio Dominican] or [Michigan Tech] and it's business and it's not ever where you can really feel great about your achievements," Annese said. "I wanted them to feel the sense that they accomplished a GLIAC championship, something that when I was up in this Wheeler Pavilion three years ago we talked about, but I don't think anyone believed us outside of our family."
The Bulldogs who were nationally ranked No. 4 coming into the game as well as No. 1 in various computer polls, have a shot to win the GLIAC outright with an undefeated record as they travel to play at Walsh College next weekend. The last GLIAC North division team to have an undefeated record was the 2008 Grand Valley State team.