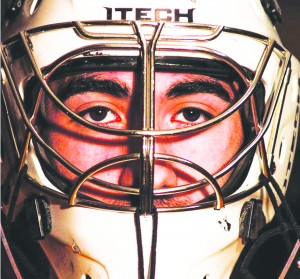 Starting as an unrecruited club hockey standout and being bumped up to the varsity team of a nationally ranked Division I school may seem like a dream, but for senior goalie Ruben Medrano, it has become his reality.
When junior Charles Williams, who was originally planned to play backup to senior goalie CJ Motte was injured, Medrano got his opportunity to claim the open slot in the roster as a third string goaltender behind sophomore Trace Pennock.
"How it worked out was I spoke with someone over the summer who used to play on the team also, and he asked me if I wanted to do it. He gave me Coach Daniels' contact information and I got through to him that way," Medrano said.
Of course, being called up to a major hockey program does take some getting used to, as the talent level far exceeds that of a club team. Also, as the talent level increases, so too do the expectations on the ice and in the weight room.
"There is a big jump in overall skill level on the ice, and we also put in a lot more work in off the ice than I did with the club hockey team. The club team just practiced twice a week, but the varsity team is always doing something everyday," Medrano said. "All of the guys are really nice and accepting though, so it's been really fun."
The increased intensity in practice is something that Medrano originally had some trouble becoming accustomed to, but he feels that it has improved his skills in the long run.
"When I had originally gotten bumped up I hadn't been on the ice all summer, so I was a little rusty at first, but I'm feeling more comfortable out there everyday," Medrano said. "With the varsity team, the training is really high-tempo, and the focus is really placed on improving everyday, so that's what I've been trying to do."
Medrano has been blessed with an opportunity that few people ever see. While he has yet to see any minutes on the ice in a game, he has found comfort in his reserve role, and is thankful just for the opportunity to be offered a spot on the bench, and a jersey bearing his name.
"It's just great. A couple of years ago I would have never imagined this, and I'm incredibly thankful for the opportunity," Medrano said.