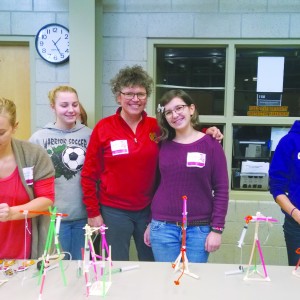 Engineering role model and author of over 20 books Celeste Baine traveled to Ferris on November 8 to motivate young women at the Mother Daughter Technology Engineering Aptitude (TEA) event.
According to the U.S. Bureau of Labor Statistics, females represent only 13 percent of all engineers. Females also represent less than 25 percent of science, technology, engineering and math (STEM) careers, even though they compromise 52 percent of the population.
"Unfortunately there are a lot of stereotypes out there that exist, especially about engineering," University Career Program Specialist Leigha Compson said. "Like that they're dirty jobs, or it's a man's world. The reality is that there's a high demand for the jobs, they often pay very well, and the industry wants to hire females."
The Mother Daughter TEA motivated young women to keep working toward STEM careers, specifically engineering.
"At an early age, girls and boys perform very equitable in math and science," Compson said. "But, the confidence in girls starts to go down and they start to lose interest right around middle school. So they might stop wanting to take math and science or they might want to go into another field."
At the Mother Daughter TEA, girls had the chance to practice their skills and show them off to a female role model. Baine also provided awareness of the opportunities STEM fields present, and inspired girls to not be intimidated by this competitive field.
"Your grades today do not determine who or what you can become," said Baine. "Engineers are some of the most creative people on the planet. That is not something that will ever show up on a test so if you really enjoy what you do, that will take you further than the grades you are getting today."
Baine said that entering a STEM field as a gender minority never stopped her from pursuing what she wanted.
"I never thought of it that way," Baine said. "I was going after what I liked to do. I always liked to fix things, take things apart and build stuff. My brother never liked to do any of that so it never concerned me that I was entering a male dominated field."
Mechanical engineering junior Carly Charlier explained her experiences with being a female engineering student.
"I think that it's interesting being in a male dominated program because you can see the differences in views on a subject or assignment," Charlier said. "I really enjoy the ability to be looked at as an equal and not be thought of as 'the girl.' I feel I have the same respect from my classmates that I have for them."
According to Charlier, not very many females express interest in STEM fields due to a lack of peers and role models in those positions. Events that encourage parental involvement with young women interested in these fields, such as the Mother Daughter TEA, are hoping to stimulate positive change.
"Now that so many females involved in STEM fields are being recognized for their involvement and dedicated, I think it will draw in more females," Charlier said.
Charlier's advice for girls who are all interested in STEM careers is to just try it out–they won't regret it.
"There is no straight line to follow once you start," Charlier said. "You can make it into whatever you want it to be."