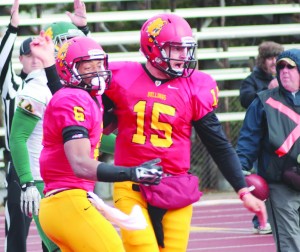 Ferris Football is one victory away from a perfect regular season in terms of their record.
The Bulldogs will play the Walsh University Cavaliers in North Canton, Ohio on Saturday. The Cavaliers are 4-6 overall and 3-6 in the Great Lakes Intercollegiate Athletic Conference.
Ferris State won in comeback fashion last Saturday against the Northern Michigan Wildcats. After being down 17-7 early in the third quarter, the Bulldogs scored 28 unanswered points on their way to a 35-17 victory. With that win, the team clinched at least a share of the GLIAC title for the first time since 1999.
Junior quarterback Jason Vander Laan isn't worried about the slow start that the Bulldogs had against the Wildcats last Saturday.
He said, "We can't focus too much on what went bad against Northern and try to change things in week 11. We had a hot start in 9 out of 10 games so we shouldn't have to change many things up. Hopefully that was kind of a fluke thing and we can go back to how it was the first 9 games."
The Bulldogs have their fate in their own hands. With Ohio Dominican and Michigan Tech with one loss, the Bulldogs can win the conference title outright with a win against Walsh on Saturday. That would be Ferris State Football's first solo conference title since 1996 when they were in the Midwest Intercollegiate Football Conference, which disbanded after the 1998 season.
The Bulldogs have an almost 6 hour drive to North Canton on Friday, but traveling has not seemed to bother them too much this season.
"It's just a little different," freshmen linebacker KC Zenner said. "It's kind of fun going into a different environment that you're not comfortable with, just knowing you need to be on top of your game."
The Bulldogs have definitely been on their game. The team has outscored their opponents a combined 220-56 in their 5 road games this season.
With Walsh being 4-6, and the Bulldogs coming off a big win against Northern last Saturday, some people might say this is a "trap game." Jason Vander Laan says the team is treating this game just like any other.
"By this point in the season we've had four games that people have been calling trap games," Vander Laan said. "Honestly, none of our players think of it like that. We approach it like any other game. We're too focused to overlook what could happen. If we do lose, we share the title with Tech/Dominican so we have a little extra incentive to win actually."
The Bulldogs beat Walsh 59-16 in Ohio last year, and compiled 615 yards of total offense.
The final challenge in the 11 game regular season will boil down to preparation.
"We have really been blessed on our team to have great athletes all over the team," Vander Laan said. "It's really us taking advantage of that. We have the best O line in the GLIAC I believe, and those guys work very hard. It's kind of the same situation every week; we need to take advantage of our mismatches."
The game kicks off at 12:00 p.m. this Saturday in North Canton, Ohio. With a win, the team increases their chances at a first round bye and home field advantage in the NCAA tournament.