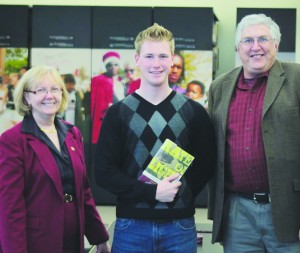 Author Tom Shanahan came to his native town of Big Rapids to promote his new book, Raye of Light.
"It's about Jimmy Raye, the first black quarterback at Michigan State," said Nathan Wells, senior Applied Speech Communication major and president of the Sports Careers RSO. "It pretty much follows Jimmy's experiences through life. I have yet to read it and I'm hoping to."
The RSO, along with the Office of Diversity and Inclusion, the Office of Humanities and the Sports Leadership Institute, were responsible for coordinating Shanahan's book-signing event on Thursday, which aptly took place outside of the Jim Crowe Museum, as well as his guest speaker event, "Desegregating College Football: Jimmy Raye and MSU and the Ferris Connection," a part of the RSO's sports speaker series. As president of the Sports Careers RSO, Wells was invited to give introductory remarks.
Shanahan's book, Raye of Light, is described as an interesting read for football fans, history buffs and those concerned with social justice and Civil Rights alike.
"Michigan State was the leading school in the integration of college football," said Shanahan. "Duffy Daugherty was Michigan State's football coach from the mid-50s through 1972. In addition to having black players from the North on their roster, Duffy Daugherty was the first coach to go down and recruit players from the segregated South. They couldn't play for their home state university. [MSU] really led the way for the rest of college football to integrate."
Since Shanahan and Jimmy Raye both live in North Carolina, Shanahan met with Raye personally and worked with him to gather accurate material for the book.
"Jimmy Raye was the quarterback for Michigan State on their 1966 team," said Shanahan. "There were no black quarterbacks back in those days, so he was kind of a pioneer. One thing we decided when we worked on the book is that we didn't want it to be a simple sports story. It was also a history of the trails that Michigan State blazed and the sociological impact of what those teams accomplished."
Usually, guest speakers are invited by the university to come speak on campus, but having grown up in Big Rapids, Shanahan took the initiative himself and contacted Sandra Alspach, Communications professor and director of the Sports Leadership Institute. She accepted his offer.
"As the host of the Jim Crowe Museum of Racist Memorabilia, with the mission to 'teach tolerance through images of intolerance,' FSU is a great fit for this presentation," said Alspach. "The last room of the Jim Crowe Museum celebrates those who fought for racial equality, and we could argue that Duffy Daugherty deserves recognition for his efforts to give black athletes opportunity for an education, using their football talent as their key to open the door."
"Everybody knows the star players that Duffy Daugherty brought up to Michigan State," said Shanahan. "A lot of people just dismissed it as trying to win games with great players. Well, it's hard to recruit someone out of high school and project that they're going to be a star, so I knew that there had to be more than the 7 star players from the South. I went through all the old rosters from 1959 to 1972 and Duffy Daugherty recruited 44 black players from the South. Obviously most of those guys weren't 'stars.' The other interesting thing I found out [was that] these players were so grateful to come up North and attend a Big-10 school."
Raye of Light is available for purchase at Great Lakes Book and Supply, including a limited quantity of signed copies. More information on Shanahan and his book can be found at rayeoflightbook.com.