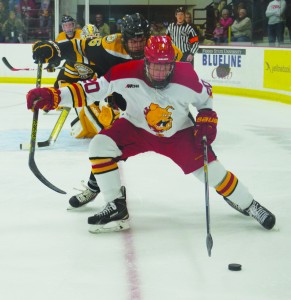 After being on the road the past two weekend series, the Ferris State Bulldog hockey team will be back in Big Rapids on Nov. 14 and Nov. 15 to face a familiar WCHA opponent in the Seawolves on Alaska-Anchorage.
The Bulldogs faced the Seawolves three times last season and came out winners in each of the three contests. The wins included a 4-2 and 5-3 weekend sweep in late February, and then a 5-4 overtime thriller in the first round of the WCHA Final Five Playoff Championship.
After sweeping Alaska-Anchorage last season, junior defenseman Simon Denis says the Dawgs can't look past the Seawolves, and have to stay focused to come out with another sweep in the weekend series.
"We know they're a good team. They took us to overtime in the Final Five last season, so we know they'll remember that," Denis said. "They've had a strong start to this season and we haven't quite come around just yet, so we're aware of the challenge ahead of us."
Sophomore forward Chad McDonald agreed with what Denis had to say, but says the Bulldogs will be ready for the challenge.
"Anytime you sweep an opponent from the year before, they always come in with more to prove, as you saw with the Michigan Tech series," McDonald said. "After the great season we had last year, we know that we have a target on our backs and we are ready and up to the task of defending our home ice and playing a hard fought game."
Ferris State is still looking to get back to Bulldog form, as they will be coming in with a 3-4 record, which includes impressive wins against the University of Michigan and Michigan State University. The Bulldog's WCHA record stands at 1-3 early on in the 2014-15 season.
Alaska-Anchorage will come into the weekend with a 4-2-2 record in the 2014-15 campaign, including a 1-3 record in WCHA play. As a part of the four wins for the Seawolves this season, two of them have come against strong competition in Maine and Wisconsin.
The Seawolves will travel 3,808 miles to face the Bulldogs this weekend, and the travel time could be something that will give the Dawgs a slight advantage heading into the weekend.
"It's definitely not easy traveling that far; it's a long trip from Alaska," Denis said. "But we know they're accustomed to their travel schedule. We know we have to jump on them early and hope that the travel is still in the back of their heads."
Puck drop is slated for 7:07 p.m. both Thursday, Nov. 13 and Friday, Nov. 14 inside the Ewigleben Arena in Big Rapids.