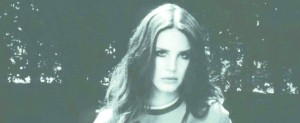 Genre: Dream Pop, Tripp Hop
Like: Lorde, Angus and Julia Stone, The Neighbourhood
Beyonce might have some competition for "Queen B" status. 29 year old Elizabeth Grant aka Lana Del Rey came onto the scene when she signed her first recording contract in 2007, releasing her first digital self-titled album in 2010.
Del Rey is more than just another pop artist. She is an icon. Not only are Del Rey's musical sound and lyrics unique, but her voice is something you have never heard. Nobody could replicate her if they tried.
Del Rey's draws influence from Elvis Presley, Amy Winehouse, Janis Joplin, Nirvana, Eminem, Bruce Springsteen, and Britney Spears. She has described herself as a "gangsta Nancy Sinatra." Her style is the perfect combination of vintage and modern.   Her cinematic voice coupled with the atmospheric music is almost mesmerizing.
According to her Wikipedia page, Del Rey possesses a contralto vocal range described as captivating and highly emotive. She is able to transcend from a high, girlish timbre down to a low, jazzy sound with great ease. Her Wikipedia page also states that contemporary music critics have called Del Rey's voice "smoky", "gravelly", and reminiscent of Marilyn Monroe.   If that isn't talent, I don't know what is.
Her two most recent albums, "Born To Die" from 2012 and "Ultraviolence" from 2014 are both incredibly noteworthy. No matter what your musical preference, Del Rey will capture your heart. Her music holds so many unique aspects that it provides an appeal to all tastes.
If you have yet to witness the sheer talent and otherworldly sound of Del Rey, then you are most definitely missing a vital piece in your music collection. Honestly, Lana Del Rey is more than Artist of the Week. She deserves to be Artist of the Decade.