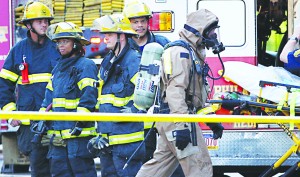 The African Student Union (ASU) hosted a fundraiser to raise awareness as well as funds to fight the Ebola epidemic.
The event began with a video that described what Ebola was and how it can be spread through a community. One in every two people who got Ebola in this most recent outbreak have died.
"5,168 people in Africa have died of Ebola," ASU president Oliver Fom Kom said. "Ebola is not a joke. It is an epidemic that requires more attention from the world."
The first Ebola outbreak occurred in 1967 in Germany when a team of scientists worked with infected monkeys from Africa to develop a vaccine for Poliomyelitis. The scientists were later found dead of what at the time was an unknown cause.
Ebola didn't return until 1976 where it showed up in Africa. Doctors believe Ebola returned from contact with Fruit Bats.
As of 2014, Ebola has spread from Guinea, Sierra Leone and Liberia. Africa has seen roughly 12,000 suspected cases of Ebola throughout the year.
The first United States case of Ebola happened Sept. 19 when a native of Liberia flew to Texas. He was hospitalized on Sept. 28 and died on Oct. 4.
"The main question I get during visits is 'doc, do I have the flu or Ebola," Doctor Harpreet Singh said. "This fear of Ebola is why I prefer to spread knowledge, not panic. Knowledge leads to strength and betterment."
According to Doctor Singh, a person infected with Ebola would "have to cough in a person's eyes to contract the disease." He also stated that the likelihood of anybody contracting Ebola is very low.
People infected with Ebola show early symptoms, such as fever, headache, unexpected bleeding or bruising, muscle pain, diarrhea and vomiting. Ebola can only be spread through bodily fluids, objects infected with the virus (needles, medical equipment) or infected animals.
Singh stated that although the symptoms of Ebola are similar to the flu, people infected with the flu will show all symptoms within 12-24 hours, while people infected with Ebola won't show symptoms for 2-21 days. If a person doesn't develop symptoms after 21 days, then they won't get sick with Ebola.
If you'd like to learn more about Ebola, you can visit Doctor Singh's website at www.icrush.org/ebola.
Donation boxes will be available at various locations and events on Ferris campus as well as Nawal's Mediterranean Eatery.