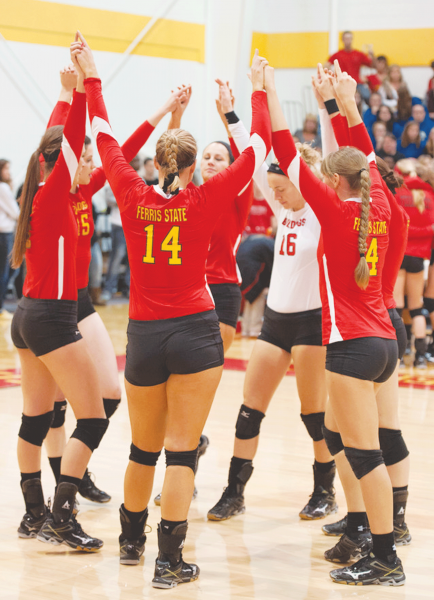 The Ferris State volleyball team will play in the NCAA tournament for the fourth straight year on Thursday.
The 23-5 Bulldogs will take on the 22-7 Lewis University Flyers at host Grand Valley State University.
The team is coming off a first place finish at the Great Lakes Intercollegiate Athletic Conference tournament where they beat Grand Valley State 3-1 for their first conference tournament title since 2004 in Allendale.
The win against Grand Valley was the team's tenth in a row. In that ten-win run, the Bulldogs have only lost three sets, all of which have been dropped to Grand Valley State.
The Bulldogs look to continue that run on Thursday where the team will be playing as the No. 2 seed in the tournament. The Flyers of Lewis University are the No. 7 seed and will be playing in their ninth straight NCAA tournament.
It's all about keeping the tempo under Bulldog control according to the team.
"We will keep playing Bulldog Volleyball," senior middle hitter Claire Grawburg said. "The only team that can beat us is Ferris State, so we will prepare to play our game."
The team has experience playing in the NCAA tournament for the last three years, and they will try to take that experience with them.
"I think it helps because we know what it takes to get through regionals. Except our region is much different than last year, so we just have to stay on our toes and be ready for anything." said sophomore setter Stephanie Sikorski.
The Bulldogs made it to the quarterfinals of the tournament last year before falling in a heartbreaking loss to BYU-Hawaii 3-2 in a five setter. The Bulldogs remember that feeling.
"We lost last year in the Elite Eight so we know what that feels like and we don't want to feel like that again." junior hitter Megan Vander Meer said.
The team has set their goals as high as they can for the tournament.
"Our goal this year is to win regionals again," junior libero Danielle Dowd said. "We want to make it to Nationals again. We will do everything in our power to make it a reality. Our overall goal would be to walk away with a National Championship."
The longest NCAA tournament run for the volleyball team came from 1982-1987 where the Bulldogs went to the tournament for six straight years.
The time of the match at Grand Valley is to be announced. If the Bulldogs beat the Flyers they will go on to play the winner of the Grand Valley State vs. Missouri S&T game on Friday.