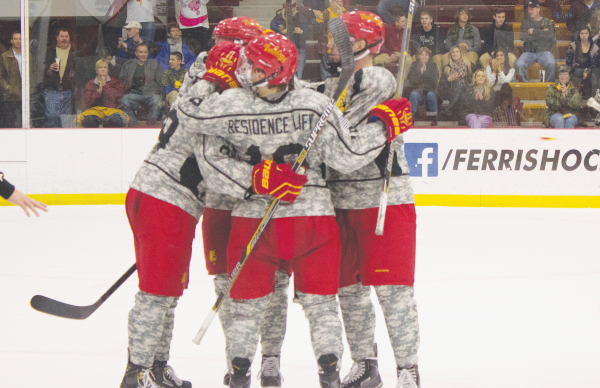 Barring the latest series the Bulldogs, have found some trouble putting points on the board, which they'll look to remedy this weekend against Alabama-Huntsville.
The team currently stands at a 6-5 overall record including marquee wins over the University of Michigan and Michigan State, but they have also given up some upsets to underdogs this season such as St. Lawrence. The primary shortcoming that seems to be keeping Ferris' from running the table is offensive woes, but it may just go deeper than that.
"I think that our problems offensively stem from not playing good enough defense," head coach Bob Daniels said. "It's very difficult to score when the other team has the puck, and I felt that we weren't playing as aggressively on defense as we normally do. We weren't making a large amount of mistakes on defense, but we were just playing very passively. We ended up stuck in our own zone for long periods of time and we weren't creating turnovers that lead to scoring chances. Also, it's harder to draw penalties when you don't have the puck, and you're more apt to take a penalty then to give yourself a chance on the power play."
Some may argue that the issues have been resolved, citing evidence from this past weekend when the Bulldogs outscored Alaska Anchorage 14-2 in a two-game series. However, further testing will be required before recognizing whether the Bulldogs have truly pushed through their slump according to Daniels, and a weekend series with Alabama-Huntsville at home this week is a golden opportunity to do just that.
"I feel that we have to address our defensive deficiencies first, then once we get that cured we'll be more of an offensive team. Obviously we scored a lot this past weekend, but I don't think we're out of the woods yet. We still have work to do, but it was nice for that series to see some of the work come to fruition," Daniels said.
This defensive passivity resulting in offensive deficiency can ot be attributed to just one player, nor any one group of players, making it ever harder to overcome.
"Hockey is an interesting sport in that you have forwards and defensemen, but it's really the whole team playing both offense and defense. Even if the defensemen are playing great, if the forwards aren't working hard defensively, then it's two guys trying to defend against five guys and you've got problems," Daniels said. "The problem doesn't lie with just one group. It's the forwards and the defensemen, and I don't want to leave the coaches exempt, because we did a very poor job to ensure that we were prepared defensively in the beginning of the season."
Rectifying an issue as damaging as this is difficult to do midseason, especially if there is a division in the locker room. However, in the Bulldogs' case, their seems to be progress being made.
"We needed guys like Justin Buzzeo and Jason Binkley to buy into that philosophy when we addressed it. We needed some seniors to say, 'you know what? The coaches are right. The fault isn't with the offense, it lies with the defense.' For some of our better, older players to buy into it the way they have is a great thing for us. That's the kind of senior leadership that you need when things aren't going as planned," Daniels said.
Along with insufficient preparation prior to the season after being skimped out of the ordinary two weeks of practice in favor of a game against Michigan, something else attributed to the team's defensive downfall.
"I think one of the reasons that we weren't playing aggressively on defense is that CJ Motte is an excellent goaltender. We may have started using that as a little bit of a crutch. Even though we weren't necessarily playing great defensively, CJ was great in net, so it wasn't showing up on the scoreboard. Yet, a lot of that was just due to CJ playing so well. Even though the other team isn't going to score a lot of goals with him in net, we're not going to score a lot either when we don't have the puck and we're using him as a crutch," Daniels said.
When playing teams from around the country, traveling long distances can weigh on away teams. Players are students just like us, and therefore have just as much homework to complete while also spending entire weekends in hotels and on buses. Needless to say, a team can gain an advantage when hosting a travel weary team.
"Well it's no question that it favors the home team on these long distance trips. I'm pretty sure Huntsville is going to bus here, and that will be an 11 or 12 hour bus ride, so that's an advantage for us. Conversely though when we go back to play them we have that same disadvantage," Daniels said.
This weekend, on Nov. 21 and 22, Alabama-Huntsville will play the role of vagabond when they travel to Big Rapids to take on the Bulldogs in Ewigleben Arena. The puck drops at 7 p.m.