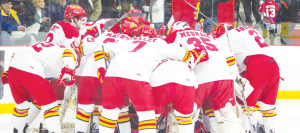 The Ferris State hockey team is set to make its debut appearance in the Great Lakes Invitational holiday tournament in Joe Louis Arena on December 28 and 29.
The annual tournament, which will celebrate its 50th year of existence this season, is hosted by three of the state's powerhouse hockey programs in Michigan Tech, Michigan, and Michigan State. The Bulldogs will begin the weekend by clashing with Michigan State, who they previously split a series with earlier in the season.
"We've always wanted to be in this tournament. We've played in a lot of holiday tournaments over the years, but we really wanted to get into this one because it's the oldest and probably one of the most prestigious in the country," head coach Bob Daniels said.
Having been played for fifty years, it comes as a bit of a shock that Ferris State has never found a spot in the tournament until now despite its prominence in the college hockey world. However, there was a clear barrier holding them out of competition, which has since been cleared.
"The problem that we had is that we couldn't get into it as long as we were in the same conference as Michigan and Michigan State. Their fans don't want to watch them play teams that they face all the time, because then it just becomes a conference tournament. So once we had the conference realignment we were eligible to be offered a spot in the tournament, and we're absolutely thrilled to be invited," Daniels said.
Now that the Bulldogs have finally been invited, they are hoping to secure a place for themselves within the tournament in the near future.
"Knowing the amount of alums in the area, we're really hoping that we can get a good following at that tournament. It's important that we bring a lot of fans, because then we would be that much more appealing to getting another invitation sooner rather than later," Daniels said.
Of course, playing before a substantially larger crowd in a historic NHL arena seems to raise the stakes of a game. One might worry about pressure and nerves afflicting a new team participating in this tournament for the first time, but coach Daniels sees it differently.
"We've played in this type of environment before. Our seniors would have played in the Frozen Four in Tampa, which was played on NHL ice and in front of an NHL crowd," Daniels said. "Over the years, we've seen these types of situations, so I don't think nerves will get to us. Once the puck drops, it's the same game and it doesn't matter if there's a huge crowd or no one watching."
The fact that this esteemed tournament is hosted in Michigan, and that this installment of it has only Michigan-native participants, demonstrates just how prominent college hockey is in the state.
"Hockey in general is huge in Michigan. We have more division-1 teams here than any other state in the country. Therefore, it feels only natural to have a tournament of this prestige in this state," Daniels said. "The majority of our players come from Michigan, so they understand the importance of the GLI. Now while we can't guarantee victory, we can guarantee that we are going to go there with the absolute idea that we badly want to win this tournament."
In addition to the recognition and chance at a tournament championship that comes with this invitation, there is also another potential benefit to reap from the weekend.
"What I like about these tournaments is that it parallels our league championships. You have four teams going to a neutral site and they'll be sharing locker rooms and bumping into each other in the corridors," Daniels said. "This is a good dress rehearsal for the league playoffs and the NCAA playoffs. It's a chance to win a championship on a weekend, and it kind of mimics the structure of our postseason, so that experience can help us in the long run."
The Bulldogs have already met with every team in the tournament this season, and only one of the five previous contests was decided by more than one goal. Therefore, the competition should be fierce at this tournament, and it is hard to pick a clear favorite. The stage is set for epic rematches between these familiar teams, and it is one of the largest stages in all of college hockey.