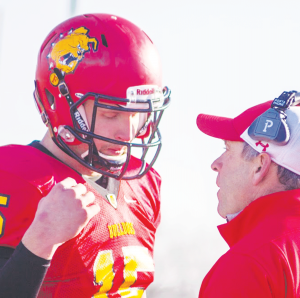 The 2014 Ferris State football team saw their season come to an abrupt ending on Saturday afternoon after being upset by the Panthers of Ohio Dominican in the second round of the NCAA Division II Playoffs.
"I'm just so proud of my team, they fought so hard. It's a tough battle man, 11-0," said Bulldog's head coach Tony Annese. "There's certain things that happen in the game of football. Maintaining a level of excellence for 12 games is hard to do."
The Panthers upset the Bulldogs by a score of 46-33 in Big Rapids, in a game where there was no shortage of offense. ODU racked up 548 yards of total offense, with 462 of those yards coming through the air, all behind the arm of senior quarter Mark Miller. Miller was efficient in his passing, going 34-for-46 and adding four touchdown tosses.
The Bulldogs posted 428 yards of total offense, but five turnovers on offense eventually led to their defeat. Junior quarterback Jason Vander Laan did what he does best, running for 156 yards on 26 carries, while adding a score. He also had 241 yards through the air with three touchdowns, along with three interceptions.
"They did a good job of attacking our youth," said Annese. "They knew where we were young and they did a good job of attacking those guys. I think their defensive front is the most stout defensive front that we've played this year."
The loss on Saturday afternoon still sits heavy with the Bulldog's, as this isn't how the team saw their season coming to an end.
"We weren't ready for it to end this way. Coming off the bye week, you're real fresh and you're thinking you have three or four more weeks in you," said Vander Laan. "We knew ODU was a good team, but just having all that time to prepare for them we thought we had a good game-plan. The seniors that we have right now, we're going to miss them a ton. Losing those guys, it's going to really hurt. This all really hurts. We haven't lost at all this year, so I don't really know what it feels like until now. Nobody was expecting this on our entire team."
A subdued Annese, with a hoarse voice, expressed thankfulness despite the loss.
"You don't feel as bad for the loss as much as you feel bad that you aren't going to be with this great group of guys," said Annese. "It's been a fabulous year. I've got probably eight or nine guys that played for me at GRCC. I've got guys that have played for me for a long time. I've got a bunch of seniors that have fought so hard. It's been such a blessing to have such a great family of men to be with every day. That's my proudest moment, I love these guys."
Although the Bulldogs didn't reach their ultimate goal of a National Championship, the season will still go down in the record books as the Dawgs posted a regular season record of 11 wins and zero losses. Along with those 11 wins came a GLIAC Championship trophy, something the Bulldogs hadn't taken home since 1999, and their first outright championship since 1996.
The Bulldogs also had 16 student-athletes named to All-GLIAC teams, with Vander Laan taking home the honors of GLIAC Player of the Year and Annese grabbing the GLIAC Coach of the Year award.