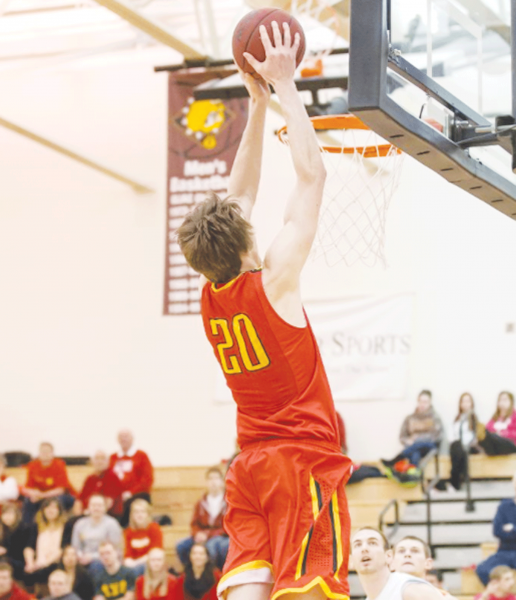 Standing 6 feet and 10 inches above the ground, redshirt junior post player Jared Stolicker of the Bulldogs basketball team is well aware of, "how the weather is up there."
Stolicker has seen the Bulldogs hover around a .500 winning percentage for the last few seasons, and is looking to change that by improving himself and his teammates daily. Whether that improvement comes through minutes on the court, or sweat in practice, Stolicker is pushing those around him to succeed.
"When I came in last year, I noticed that as the season progressed in practice, he started pushing me harder and harder to make me better, and I was trying to push him harder. We guard each other almost every day, so I really notice that he's trying his best in practice, and that makes everyone take notice and try to play harder," said redshirt freshman post player Zach Hankins.
A commendable work ethic and ample experience have helped to push Stolicker into a leadership role among younger athletes such as Hankins, who also happens to measure in at 6'10".
"Yeah, I think I've started to step into a leadership role a little bit more just because of my seniority," Stolicker said. "I mean, we already have two captains, so I'm not trying to take anything away from them, but I always try to help the younger guys whenever I can."
Mentoring underclassmen teammates has become a priority for Stolicker. While much of this guidance comes through support and motivation, he is able to effectively lead by example when it comes to play in the post.
"The best aspect of my game would have to be my rebounding. That and blocking shots is probably what I'm best at. Those are the things that let me take advantage of my height," said Stolicker.
Of course, basketball is a game that can be tremendously influenced by the length of a player. This height that Stolicker was blessed with, which helps to carry him above his competitors, can be primarily attributed to one huge adolescent growth spurt.
"I pretty much grew up all at once. It happened during my sophomore year of high school," said Stolicker. "I could dunk in my sophomore year after I was done growing, so as a kid I felt pretty cool because of that."
A 6'10" sixteen year old is a bit of an oddity, but Stolicker has taken full advantage of his height, and has grown into his game. Stolicker's presence off the court also seems to have developed, as his positive attitude and humorous nature offers a boost to the team's overall morale.
"Off the court, he's kind of a goofy guy. He's always messing with other people and trying to make them feel uncomfortable for his own amusement. He just makes all kinds of jokes and calls everybody out, so it's really fun to be around him," Hankins said.
The Bulldogs are showing promise thus far this season with a 3-2 record, including an undefeated home record and currently maintaining a 3-game win streak. The Dawgs will hit the road, bound for Painesville, Ohio in order to tip off conference play against Lake Erie on December 4.