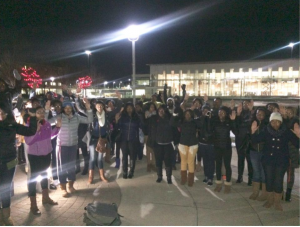 In protest of the American justice system, Ferris State University's Black Student Union organized a peaceful "Hands Up, Don't Shoot" protest on Ferris' main campus.
The gathering was planned after a New York grand jury's decision not to indict a police officer who choked to death the unarmed Eric Garner. In the wake of a similar decision in Ferguson, tensions have already been high. Students on college campuses across the nation have decided to speak up.
After hypnotist Tom Deluca's performance at Williams Auditorium on Thursday, some 40 students gathered in front of the stage and raised their hands.
"Quickly, silence took over the room and those who supported the protest joined us with their hands in the air," said Ferris television and digital media production senior and President of the Black Student Union Anthony Brock of Detroit.
The room remained quiet for several minutes and then filed out to Ferris' North Quad, chanting "our lives matter" and "hands up, don't shoot." Members of the Black Student Union and a growing crowd of Ferris students lit candles in memory of Eric Garner and Ferguson's Michael Brown.
"It was a chance for us all to release whatever feelings we had toward the matter and also a chance for Black Student Union to express its next steps in terms of uniting," said Brock, who also read to the group a speech outlining his frustrations.
"Overall, there was no hate, no violence, no disrespect, only love," said Brock. "I wanted to make sure that everyone knew they had support."
The gathering lasted for about an hour as supporters shared stories, prayed and held a final moment of silence. A petition from the African American Studies department was also circulated to sign.
Senior criminal justice major Jazmine Goode was in attendance and noted that at one time, "even coming to a University [as an African American] wasn't even an option."
"I want to do my part to make sure everyone is heard," Goode said. "[The Black Student Union] will continue to give students of any color the chance to stand up and have their voice heard."