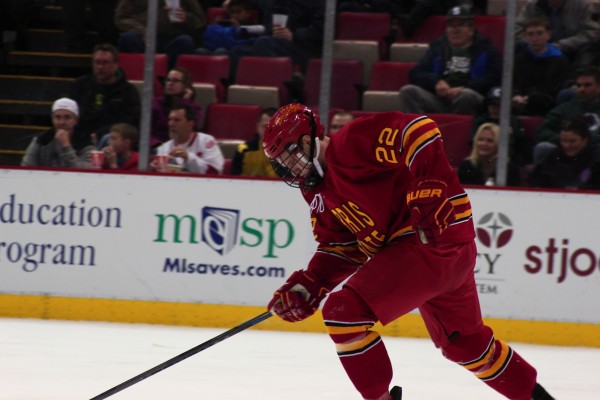 Participating in their first ever Great Lakes Invitational Tournament in the Joe Louis Arena, the Ferris State Bulldogs fell to the Michigan State Spartans in the first round of tournament play 2-0.
2014 marked both the GLI's 50th year of play, and the Bulldogs' first appearance in said tournament. Bulldogs fought to not be the second pack of dogs to go down tonight as the Michigan Tech Huskies had earlier been upset by the Michigan Wolverines.
Still, Ferris State's defensive toughness and solid play in goal was not enough to elevate them past Michigan State's stingy defense.
The first period seemed to be a relatively even matchup offensively, as the Spartans claimed only a slight edge in shots on goal, having compiled 12 shots to the Bulldog' 9. It was a true defensive battle, as neither team was able to find twine because of lockdown goaltending and stellar defense on both sides of the ice.
While neither team lit up the scoreboard in the first period, there was plenty of action to be seen in the trenches on the ice. Both teams were playing with fire as six penalties were called within the first 20 minutes of gameplay.
Before even a quarter of the second period had elapsed, the Spartans found their way onto the board, courtesy of senior right wing Brent Darnell who was able to crank a shot past Ferris senior goaltender CJ Motte. Darnell ripped a shot from between the circles that Motte got a piece of with the top of his pad, but the puck squeaked by him and into the cage.
In retaliation, the Bulldogs' offense began to step up the pressure, recording 10 shots following Michigan State's goal. Still, the Spartans held onto their lead into the second intermission.
Ferris State continued this offensive pressure into the third period, but was unable to finish on any of their opportunities. To drive the final nail into the Bulldogs' coffin, MSU's sophomore center Thomas Ebbing netted a final goal on an empty net in the final minute of play past a lunging Ferris sophomore defenseman in Ryan Lowney. The 2-0 score would hold until the final buzzer.
Michigan State's junior goaltender Jake Hildebrand earned a shutout, while Ferris State's Motte saved 27 shots of his own.
After dropping a close game to Michigan State, the Bulldogs have landed themselves in the race for third place where they will meet Michigan Tech for the third time this season. The Bulldogs were swept by the Huskies earlier in the season, losing at home 1-0, then 2-1 back in October.
The two-day GLI Tournament will conclude following the championship matchup between Michigan and Michigan State at 7:00 p.m. The Victor of this game will be the 50th recipient of the sought-after John A. MacInnes Trophy. The puck will drop for the Bulldogs and Huskies at 3:30 p.m.